Dude Ranches in Wickenburg
Today, many describe Wickenburg, Arizona as the "Dude Ranch Capital of the Country". That's because the area exudes the aura of its historical old west days. Lured by the dream of discovering gold, Henry Wickenburg was handsomely rewarded in the early 1860's by the discovery of the Vulture Mine and its rumored production of over $30 million in gold.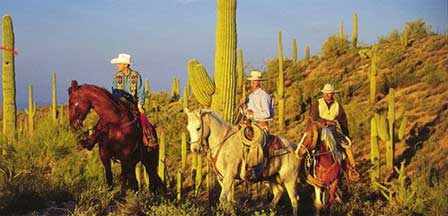 Miners, ranchers, farmers and even gunslingers and gamblers followed. Uneasy times came with wars between settlers and the Yavapai Indians who had occupied these lands for centuries. Peace finally came and gold was depleted at several mines but Wickenburg, AZ continued to evolve and today the spirit of its early west days is alive and well.
The history, lore and lure of Wickenburg, AZ, past and present created its Western charm. Wide open spaces, landscape beauty, and traditions of its colorful old west days has created a magnet attracting tourists who fell in love with the West.
Rancho De Los Caballeros Dude Ranch Resort
An historic dude guest ranch and golf club that sets on 20,000 acres of amazingly beautiful Sonoran Desert. It opened its doors in 1948 and has been owned by the Gant Family since the beginning. They continually honor the tradition of the Spanish Caballeros who explored, settled, and treasured the Southwest. The name Spanish Caballeros translates to "gentlemen on horseback".
Rancho De Los Caballeros
1551 South Vulture Mine Road
Wickenburg, Arizona 85390
1-800-684-5030
Flying E Ranch
Your dude ranch hosts, Andrea & Steve Taylor welcome you to all the west has to offer. Carrying on long time ranch traditions, this is where the past meets the present and you can restore your love for the West. With legendary hospitality of the Old West, the Flying E Ranch is the ideal place to take a step back in time. Energetic horses, breathtaking scenery and genuine cowboys as your guides will fill your hearts with memories to be treasured.
Flying E Ranch
2801 W. Wickenburg Way
Wickenburg, Arizona 85390
928- 684-2690
Choose Your Style of Wickenburg, Arizona Dude Ranches.
Related Wickenburg Interest
Wickenburg Arizona
Wickenburg Jeep Tours
Rancho de Los Caballeros Guest Ranch
Stanton Ghost Town
Vulture Mine
Wickenburg Dude Ranches
Wickenburg Horseback Riding
Wickenburg Weather Info
Metro Phoenix