Springerville Arizona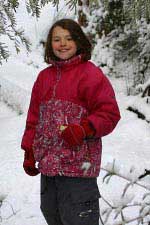 Like all communities in the Arizona White Mountains, Springerville AZ is a town for all seasons. Springerville, in an area known as "Round Valley" is about 28 miles from Show Low which is considered the gateway to the White Mountains area. Springerville is located at the junction of US 60 and State Highways 180 and 191. It is about a 220 mile drive from the Phoenix area depending upon departure point.
Originally established in 1879, Springerville sits at an elevation of 7,000 feet. It grew around Henry Springer's trading post and eventually was incorporated in 1948. The population of Springerville, Arizona is about 2,000 (2006).
Springerville Attractions & Recreation
As part of the White Mountains region, Springerville features four seasons of outdoor recreation and gorgeous scenery. Particularly during the summer months, Springerville is a haven for outdoor enthusiasts from both Arizona and New Mexico. During the winter, the best snow-skiing can be found at the Sunrise Park Resort and there are plenty of cross-country ski trails in the area.
With the arrival of spring, new leaves on the aspens and colorful meadows of wildflowers signals a time for hiking and getting in touch with nature. The summers bring cool, refreshing temperatures perfect for fishing the many lakes and streams, horseback riding, hiking, golfing the area courses or just kicking-back and absorbing the getaway serenity.
When the gambling urge hits, you'll find the Hon-Dah Resort Casino just a short drive away. There are also three archaeological sites and ancient Indian ruins within a 20 minute drive from Springerville.
Lyman Lake State Park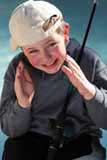 Lyman Lake is just minutes north of Springerville. It is one of the largest lakes in the White Mountains area and permits speed boats and water-skiing as well as fishing. Here you will find campgrounds with hookups, ramadas, paved boat ramps, restrooms and showers. There is usually a small herd of buffalo that hang out in the park. Cabins are also available for rent.
Northernmost Boundary of the Coronado Trail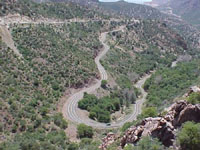 South from Springerville is the Coronado Trail (Highway 191) making its way for about 123 miles to Morenci, Arizona. This scenic drive follows the path of Francisco Vasquez de Coronado's 1540 expedition into the area seeking the riches of the legendary "Seven Cities of Cibola".
Today, the riches to be discovered are the endless spectacular views along with an abundance of outdoor recreation. The Coronado Trail is a very slow drive as it navigates steep canyon cliffs with over 400 switchbacks. Although the trip along the Coronado Trail takes 4 to 5 hours, it is a scenic drive that should not be missed.
Related Springerville Interest
Springerville Arizona
Springerville Bed & Breakfasts
Directions To Springerville
Getting to Springerville through Show Low, Arizona is the most accessible route. Springerville AZ is about 28 miles east of Show Low which is about a 175 mile drive from Phoenix via Payson AZ.
Springerville Area Map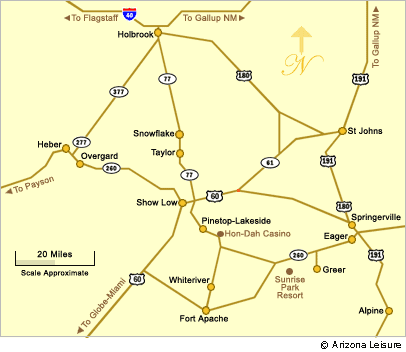 Lodging Choices
Most hotels in the White Mountains region are convenient to Springerville including hotels in Springerville, Show Low hotels and hotels in Pinetop. You'll also find White Mountains Bed and Breakfast Inns like home away from home and there are Cabins for Rent and RV Park Campgrounds in the White Mountains area.
Beautiful White Mountains In Arizona