Grand Canyon Rafting Trips
Just seeing the Grand Canyon is a spectacular sight. Rafting it is an amazing experience. Explore Indian Ruins, discover the Havasu Waterfalls, camp on the beaches and ride the rapids. Find the mysteries of the Inner Gorge, take side canyon hikes and encounter Grand Canyon Wildlife. Most rafting trips begin at Lee's Ferry at the eastern end of the Canyon and options include multiple days to weeks if you make the entire 270 mile journey down the Colorado River through the Canyon. Other options include motorized rafts, non-motorized rafts and dories. Trips to the rafting launching points can start at Las Vegas, Flagstaff, Phoenix and other locations. See each rafting operator's website for details, schedules and package options. Also read "Rafting The Grand Canyon" to get a feel for the experience.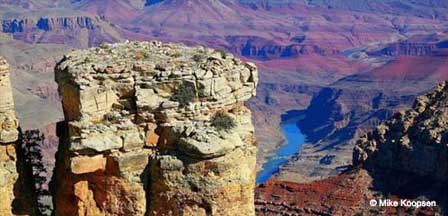 Arizona River Runners. Since 1970 Arizona River Runners has grown to be one of the most innovative, progressive and well-respected outfitters operating in the Grand Canyon.>
Wilderness River Adventures Let yourself go! Within these hallowed Grand Canyon walls, the river's never-ending current carries you to new discoveries of majesty and beauty, and to new heights of excitement and adventure.
Grand Canyon Rafting Video
The Spectacular Grand Canyon