The entire Grand Canyon is located in Northern Arizona and its total length is about 277 miles long. However the Grand Canyon National Park area, managed by the National Park Service is the largest and most visited portion with easier access and visitor amenities. The Colorado River flows through the entire length of the Grand Canyon and divides the Park into two rims: The South Rim and the North Rim.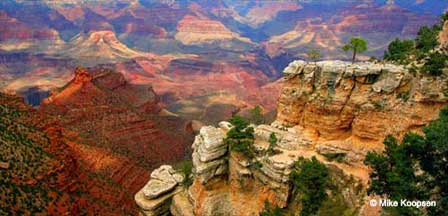 Even though the visual distance from the South to the North Rim averages only about 10 miles across the canyon, the driving distance between the two sides is 220 miles, about a 5-hour drive. The overwhelming number of tourists visit the Grand Canyon South Rim due to many reasons. The South Rim of The Grand Canyon is open all-year, is easily reached, and substantially features more amenities including restaurants, shopping venues, hotels, campgrounds, and an extensive complimentary bus transportation to services and view points.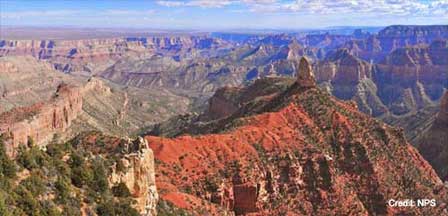 North Rim services close during the winter months due to heavy snow. Although views of the canyon are somewhat similar, the climate and vegetation differs primarily due to elevation. South Rim elevation ranges from 6,500 to 7,600 feet versus 7,500 to 8,600 feet at the North Rim.
Nearest Cities To The Grand Canyon South Rim
The nearest towns and cities near the Grand Canyon South Rim. all with a large selection of hotels, restaurants, and shopping is Tusayan, Williams, Flagstaff and Sedona, Arizona.
Tusayan, Arizona: 2 miles south of the main entrance.
Williams, Arizona: Located off Interstate 40 and surrounded by beautiful pine forest. The population of William AZ is about 6,000 and is located about 60 miles from the main Grand Canyon entrance.
Flagstaff, Arizona: Population is about 60,000 is set in pristine forests. Flagstaff boasts the highest mountain range in Arizona, the San Fransisco Peaks at 1,600 feet. Flagstaff is located less than 80 miles to both the Main Entrance and the East Entrance of the South Rim of the Grand Canyon.
Sedona, Arizona: Amazing Sedona AZ, is about 110 miles south of the Grand Canyon and the scenic drive up Oak Creek Canyon is spectacular.
Grand Canyon National Park Map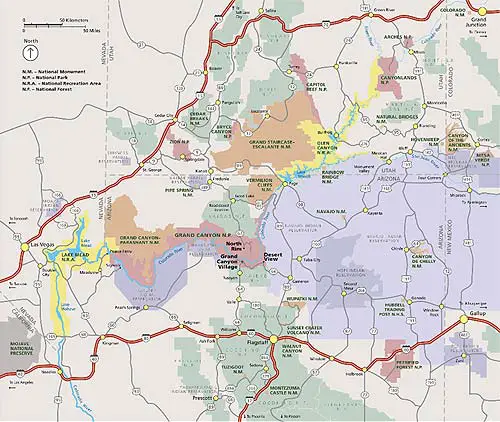 Directional Map To The Grand Canyon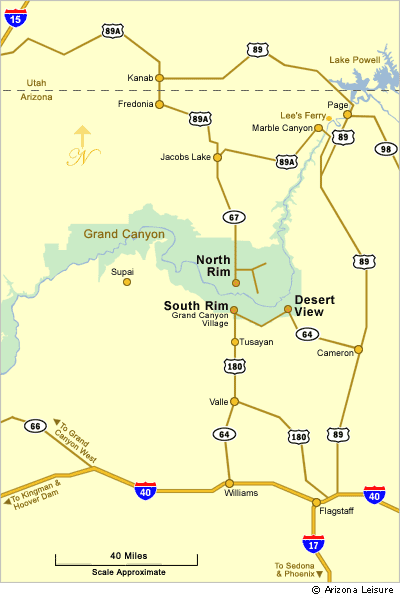 Grand Canyon Questions Answered
Where is the Grand Canyon located in Arizona?
What are the closest towns and cities to the Grand Canyon?
What is the difference between the South Rim and North Rim?
How far is the South Rim to the North Rim of the Grand Canyon?
How long is the Grand Canyon?
What is the elevation of the Grand Canyon?
How to get to the Grand Canyon?