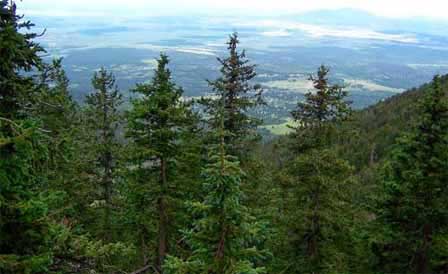 View From Humphreys Trail. Credit: Coconino NF
Get ready for some incredible beauty. The summit of Humphreys Peak is the highest elevation in Arizona at 12,633 feet and one of the scenic peaks among the San Francisco Peaks. It is located just north of Flagstaff, Arizona. All of the peaks are considered sacred by the local Native American Indian Tribes and consider it a place where earth meets heaven. Humphreys Peaks is often also called Mount Humphreys.
Humphreys Peak is the home of the Arizona Snowbowl, a popular winter-ski resort in Arizona. During the summer months the ski-ride system is converted to SkyRide that rewards with incredible views of the surrounding forest. On a clear day visitors can see distant views of the Grand Canyon South Rim.
Hiking Humphreys Trail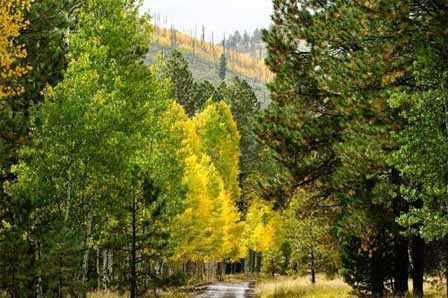 Near The Beginning of the Trail. © MKelly6000
Getting to the trail head is easy and what is a mild beginning with meadows of wild flowers will eventually become a difficult and strenuous climb. A warning.....keep your eye on the sky. At this altitude, weather can suddenly become violent with storms that can bring strong winds, heavy rain, lightning and snow. Be prepared to turn around and trek back to lower elevation when thunderstorms occur and always be ready for bad weather conditions.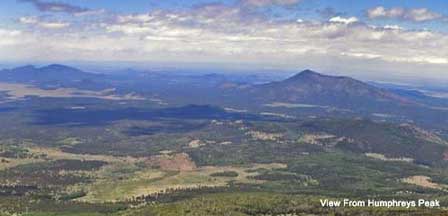 Along its 4.5 mile course, a thriving alpine forest streaked with huge rock slides and avalanche tracks hugs the mountain's slopes. Scenic Hart Prairie stretches out the base of the incline and on clear days the Grand Canyon is easily visible on the horizon.
The trail is steep with a quick 3,333 foot elevation gain and becomes very rocky at it's higher reaches. The trail begins with wild flower covered meadows before reaching a dense forest of aspen, fir and spruce trees as it reaches the saddle connecting Humphrey's Peak with its sister peak, Agassiz.
Near the tree line, the thick forest is quickly left behind and replaced with bent and twisted bristlecone pines and plants that can only survive in tundra conditions. Those that have never hiked Humphrey's Trail can expect to reach three false summits before being rewarded with views from Arizona's highest point.
Hiking Safety
Humphreys Trail is considered strenuous and difficult. The air is quite thin at high elevation. Hikers should be healthy and in good physical condition. Do not hike alone unless you are a seasoned experienced hiker. Expect the 9-mile roundtrip to take 8 to 10 hours depending upon hiking speed and number of stops.
Although Humphreys Trail is open all year, snow cover can be quite heavy during the winter months. During the winter, hiking permits are required. It is not unusual that some snow cover exists during early and even into late spring. So dress in layers accordingly.
Watch the weather carefully. Check the Flagstaff Weather Chart, but remember that the elevation of Flagstaff is 7,000 feet versus 0ver 12,000 at the Humphrey Peak Summit.
Trail Quick Facts
Trail Length. 4.5 miles one way to summit
Elevation Range. 9,333 to 12,633 feet
Elevation Gain. 3,333 feet
Summit Peak. 12,633 feet
Trail Rating. Strenuous
Hiking Time. 8 to 10 hours
Hiking Volume. Moderate to heavy
Hiking Season. Late spring to fall best times
Winter Permits. Are required
Camping. No camping above tree line
Stay on the trail
Humphreys Trail Map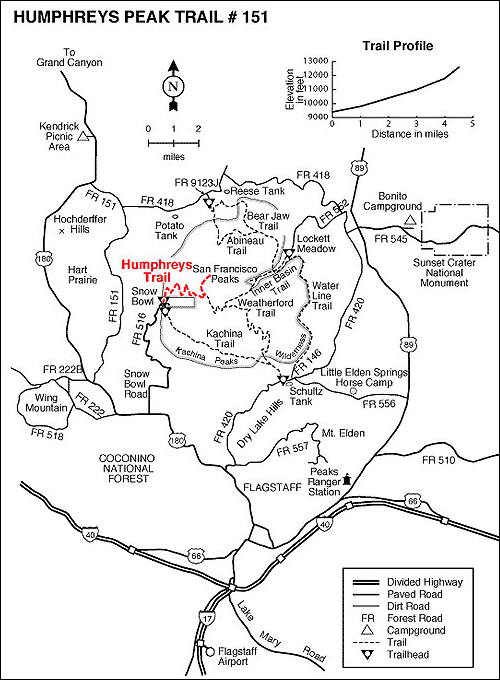 Getting To Humphreys Trail
Humphreys Trailhead is located 14.5 miles northwest of downtown Flagstaff, AZ at the San Francisco Peaks. Take US 180 north for 7 miles, then Snowbowl Road (FR 516) for 7.4 miles to the Snowbowl lower parking lot. The trailhead is at the north end of the parking lot. All roads are paved.
GPS: N35° 19' 52.248", W-111° 42' 41.76"
Hotel and Lodging Accommodations
Choose from a wide variety of Flagstaff discount hotels near the trail from full service to economy motels. See Flagstaff Bed and Breakfasts and Flagstaff Cabins For Rent.
More Information
Coconino National Forest
Flagstaff Range District
Flagstaff, Arizona
(928) 526-0866
Photos Along Humphreys Trail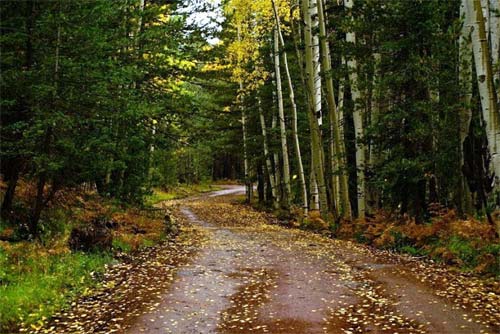 Lower Level of Trail. © MKelly6000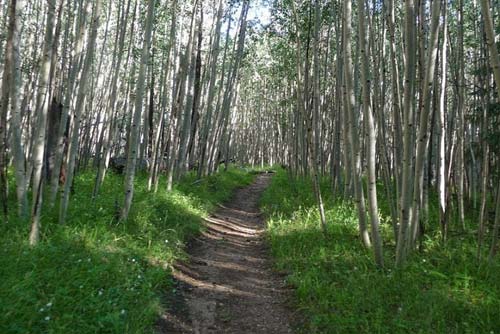 Along The Humphreys Peak Trail. Credit: Coconino NF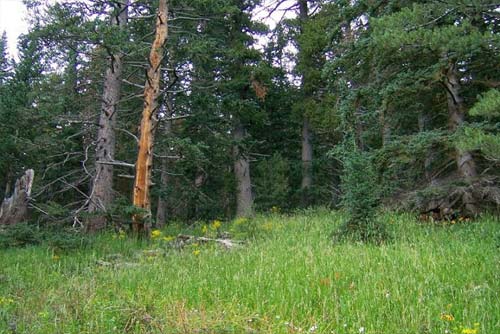 View of Forest. © Andrew Petro
Mid-Range Along The Trail. © Andrew Petro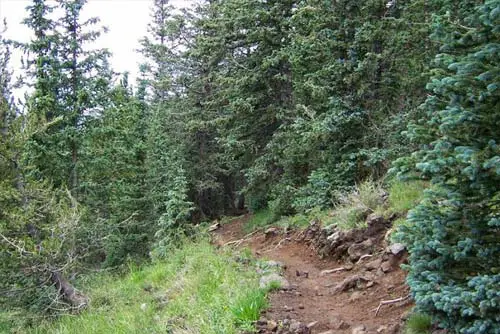 Forest Along The Trail. © Andrew Petro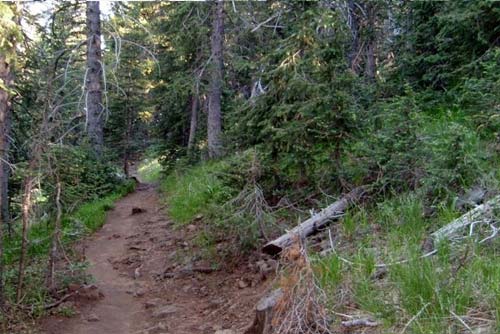 Along The Trail. © Abdulmajed Dakkak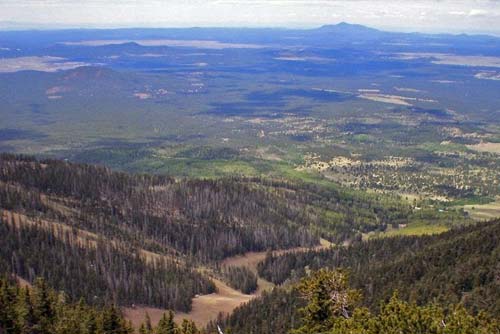 View From Humphreys Trail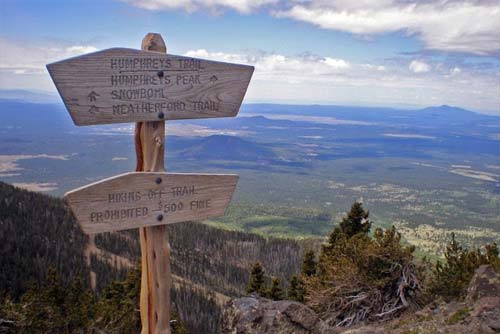 Almost To The Summit . Credit: Coconino NF