Best Flagstaff Bed and Breakfasts
Staying at a Bed and Breakfast in Flagstaff, Arizona offers so many added-value benefits versus a traditional hotel. Bed and breakfasts are like a home away from home where your hosts cater to your comfort and convenience. Begin your day in Flagstaff AZ to the fresh aroma mountain pine. A custom prepared breakfast expressly for you. And after an eventful day of sightseeing, return to your bed and breakfast in Flagstaff with relaxing privacy without the crowds.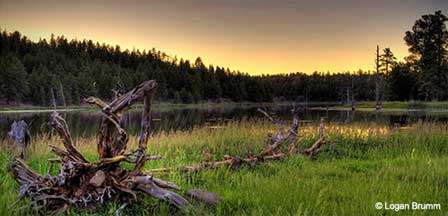 Perhaps an afternoon tea. Relax on garden patios. Jump in the jacuzzi. Enjoy a glass of wine. Sit around a warm fireplace and relive the day experiences. In Flagstaff there are many unique bed and breakfast choices that complement your style of a vacation getaway. Of course expect to be pampered by your hosts that are intimately aware of all the adventure and attractions Flagstaff and Northern Arizona has to offer.
Stay at an elegant restored historic resident close to downtown Flagstaff's restaurants and nightlife. Or a mountain retreat deep into the forest where the aroma of pine trees and sight of wildlife punctuates the quiet of solitude and tranquility. Or next to hiking trails where evening walks under bright stars rejuvenate. In Flagstaff, a bed and breakfast offers the perfect place for a stimulating rejuvenation.
Aspen Inn Bed and Breakfast
218 North Elden Street
Flagstaff, Arizona 86001
(928) 773-0295
Conifer House Bed and Breakfast Inn
1701 West Steveanna Way
Flagstaff, AZ 86001
(928) 774-2438
Fall Inn To Nature
4555 South Lake Mary Road
Flagstaff, Arizona 86005
(928) 714-0237
Whispering Pines Inn
2222 North Whispering Pines Way
Flagstaff, Arizona 86004
(928) 853-5335
England House Bed and Breakfast
614 West Santa Fe Avenue
Flagstaff, Arizona 86001
(928) 214-7350
Also See Sedona Bed and Breakfasts
Popular Attractions In or Near Flagstaff
Grand Canyon South Rim
Lowell Observatory
Humphrey's Trail
San Francisco Peaks
Sunset Crater
Walnut Canyon Indian Ruins
Wupatki Indian Ruins
Oak Creek Canyon
Flagstaff High Country