Flagstaff Cabins For Rent. Cabin Rentals in Coconino Forest
Often, cabin rentals in Flagstaff, Arizona provide greater value with the comforts of home for families and larger groups versus hotels. Relax in the cool, refreshing mountain pine country in a Flagstaff cabin. Choose from rustic cabins in Flagstaff to deep in the National forests or in large luxury cabins with all the conveniences of home.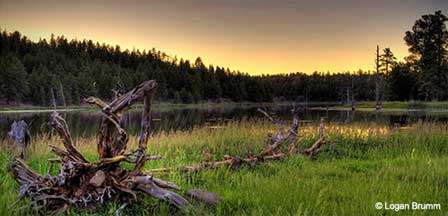 Choose from a wide selection of Flagstaff, Arizona cabins located near lakes, hiking trails, the ski slopes, snow sledding hills, and within easy driving distance of the many Northern Arizona attractions such as the Grand Canyon and Oak Creek Canyon.
---
Arizona Mountain Inn and Cabins
4200 Lake Mary Road
Flagstaff, Arizona 86001
928-774-8959
Most diverse choice of cabin rentals in Flagstaff. Bordered by the Coconino National Forest, choose from 17 rustic cabins on 13 secluded acres. These cabins are ideal for families and large groups. Enjoy the fresh, cool mountain air of Flagstaff, Arizona.
---
Flagstaff Rental Cabin
2584 Cbola Ovi
Flagstaff, AZ 86001
602-628-3500
Our rental cabin in Flagstaff is located in Kachina Village about 6 miles south downtown Flagstaff. With 3 large bedrooms and 2 full bathrooms, the cabin sleeps 8 people. A real cabin experience in the cool pine country. The perfect home base with close proximity to Northern Arizona Attractions.
---
Ski Lift Lodge and Cabins
6355 North Highway 180
Flagstaff, Arizona 86001
928-779-1951
Regardless of whether you're planning a visit in winter, summer, spring, or fall, the Ski Lift Lodge & Cabins are an ideal place to stay. These comfortable, affordable cabins have front porches; some even feature gas fireplaces. The amenities include FREE Wi-Fi, HBO and Breakfast with your stay.
---
Mormon Lake Cabins
1991 South Mormon Lake Road
Mormon Lake AZ 86038
928-354-2227
Relaxation awaits you in one of the cozy log cabins nestled in the largest grove of Ponderosa Pines in Arizona near Mormon Lake. Choose from a wide variety of cabins depending on the Cabin style, size and amenities. Located near the lodge, steakhouse, horseback riding, coffee, and RV Park Campground.
---
Of Related Interest
Flagstaff Average Temperatures
Kids Snow Play
Flagstaff Bed and Breakfasts
Winter in Flagstaff
Arizona Snowbowl Skiing
Lakes Near Flagstaff
Flagstaff High Country