Lake Havasu City Map
Directions To Lake Havasu City, AZ
Lake Havasu City AZ is located on the shores of both Arizona and California. It is about 150 miles from Las Vegas, 208 miles from Phoenix, 307 miles from Los Angeles and 313 miles from San Diego.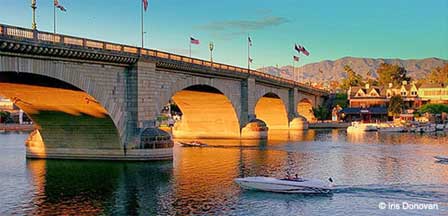 Directions From Phoenix. Drive west on I-10 Interstate. Take Exit 19 marked Parker/Yuma to Arizona Highway 95 North. Continue on AZ 95 until you arrive in Lake Havasu City, AZ.
Directions From Las Vegas. Take US 93 south to Kingman Arizona. Then take I-40 to Arizona Highway 95 south to Lake Havasu City which is about 60 miles from Kingman, Arizona.
Related Lake Havasu City Interest
Lake Havasu City
Lake Havasu ATV Rentals
Lake Havasu Bed & Breakfasts
Lake Havasu Boat Rentals
Lake Havasu City Area Map
Lake Havasu Pictures
Lake Havasu Fishing
Lake Havasu Horseback Riding
Lake Havasu Boat Tours
Lake Havasu Vacation Rentals
Lake Havasu Weather Info
London Bridge
London Or Lake Havasu
Along The Colorado River