Lake Havasu Lake & Boat Tours
Colorado River Jet Boat Tours. You will enjoy breathtaking views as we travel up the Colorado River through the Havasu National Wildlife Refuge and see places like Devils Elbow, interesting rock formations and 3500 year old Indian Petroglyphs.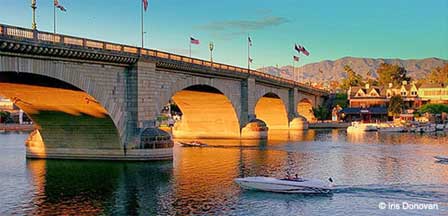 Capt. Doyle River Excursions. Cruise down the Colorado River on a 1 & ½ hour round trip adventure through Topock's timeless Gorge. Enjoy the crystal clear water and colorful rock cliffs.
London Bridge Gondola. Enjoy the enchantment of Venice under the London Bridge on a beautiful hand crafted gondola right here on Arizona's beautiful west coast.
Jerkwater Canoe & Kayak. Jerkwater Canoe & Kayak Company offers equipment, guides, paddling trips, mini-vacations and river trip support services on the Colorado River.
Western Arizona Canoe & Kayak Outfitters. Western Arizona Canoe and Kayak Outfitters has been providing river trips down the Colorado River since December 1993.
Related Lake Havasu City Interest
Lake Havasu City
Lake Havasu ATV Rentals
Lake Havasu Bed & Breakfasts
Lake Havasu Boat Rentals
Lake Havasu City Area Map
Lake Havasu Pictures
Lake Havasu Fishing
Lake Havasu Horseback Riding
Lake Havasu Boat Tours
Lake Havasu Vacation Rentals
Lake Havasu Weather Info
London Bridge
London Or Lake Havasu