Small Stream Fly Fishing Strategies
Fly fishing for trout in and around Greer is a blast. The Little Colorado River flows right through Greer. On top of that there are over 600 miles of trout fishing streams and 22 lakes withing a 30 mile radius of Greer in the White Mountains.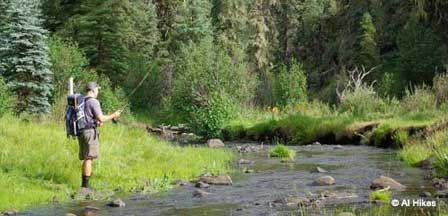 At high elevation these streams, rivers, and lakes are cool waters and some have multiple types of trout. The Native Apache, rainbow, brook and brown varieties. Of course you can use the old bobber style of let a fish egg float around, but fly fishing brings a whole new adrenalin rush.
Here's a great article on fly fishing techniques
It covers a wide array of tips and hints on fly fishing. Which types of flies to use when the waters are shallow or deep. Wet or dry flies. What type work best on the types of trout and their habits. Different approaches in small streams, wider rivers and lakes. And when to add weight to leader.
How to get closer to trout from behind with spooking them. When to change and try different types of flies. How to make careful approaches. How and when to wade. Long casts or shorts casts and why. The above link to "How To Fly Fish" written by Tom Rosenbaur is very informative.
Of course the right equipment can make a world of difference The right types of fly rods and reels. Streamline fly rod outfits. Using the right type of knots. Strong leaders and spools of tippet material.
Choosing The Right Fly Rod

See All Orvis Learning Center Fly Fishing Equipment Videos & Articles
How Much To Spend For A Fly Rod

See All Orvis Learning Center Fly Fishing Equipment Videos & Articles
More Fly Fishing Information
More instructional videos
Choosing The Right Equipment
Of Relevant Interest
Little Colorado River
White Mountains Lakes
Greer Area Campgrounds
Greer Arizona Cabins