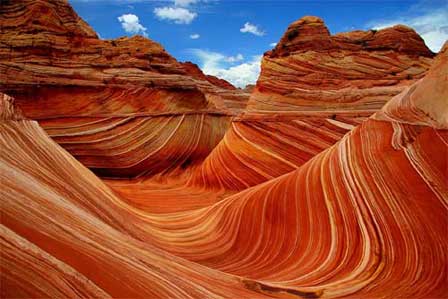 The Wave at Vermilion Cliffs National Monument. © Mike Koopsen
A collection of videos explaining what to expect when visiting the Vermilion Cliffs National Monument, the Paria Canyon and other points in the Vermilion Wilderness. This rugged terrain much the same since ancient civilizations inhabited the area.
It is so remote with few marked roads, it is easy to get lost. There are permits necessary to enter some areas. Preserving your safety and wilderness experience is important. It is so desolate that it is recommended to hire professional hiking guides and photography tour guides.
We recommend watching the following videos to make your time at Vermilion Cliffs an more enjoyable experience.
Vermilion Cliffs National Monument
The Wave at Coyote Buttes North
The Wave at Coyote Buttes South
White Pocket
Buckskin Gulch
Paria Canyon Hike
Information Relating To Vermilion Cliffs
Guided Hiking and Photography Tours
Dreamland Tours and Guides