Greer AZ is the great escape located in the White Mountains of Arizona. At an elevation of about 8.500 feet, Greer is a four-season getaway for the outdoor enthusiast. There is so much to do, see and enjoy all year long. Stroll the meadows of wildflowers during the spring. Hike along the shimmering waters of the lush Little Colorado River.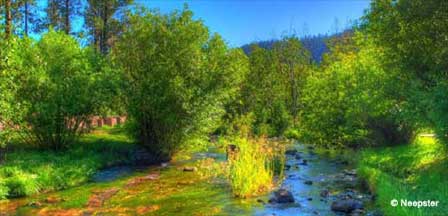 With summer high temperatures that average 76 degrees Fahrenheit, the adventure is endless. Fishing, hiking, biking, golfing, sailing, kayaking and horseback riding. Summer is the ideal time for a family vacation when school is out and temperatures in the desert cities become unbearable.
Greer, Arizona is beautiful when the golden colors of fall arrive. When the chilly evening temperatures begin to fall, it's time to snuggle-up around the fireplace in your cabin. Winter in Greer is snow recreation season averaging 8 feet of snow. It's time to go sledding, cross-country skiing or speeding down the ski-runs at Sunrise Ski Resort.
Greer Attractions and Things To Do
Visitors will marvel over the peaceful serenity of this quaint, isolated piece of paradise. Greer boasts unimaginable scenic beauty. Surrounded by the aroma of pine-scented air, when in Greer, you're always in touch with nature.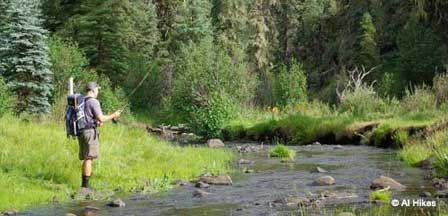 With over 630 miles of trout streams and 22 mountain lakes within a 30-mile radius of Greer, Arizona, you'll find yourself in fishing heaven. The lake waters are ideal for sailing, canoeing, and kayaking. Streams that meander through lush meadows are perfect spots to rejuvenate mind, body and soul.
The Sunrise Ski Area at the resort maintains about sixty-five ski trails and is usually open from Thanksgiving to Easter 7AM to 4 PM daily. They have a lot of "intermediate" runs, a wonderful staff of instructors and if needed, they make snow nightly.
Where Greer is Located
Greer, Arizona is located about 230 miles northeast of Phoenix and Scottsdale and about 240 miles northeast of Tucson. Surprisingly to most, Greer is only 220 miles southwest of Albuquerque NM. It is less than 50 miles from Show Low, one of its sister-communities in the Arizona White Mountains.
See Map and Directions to Greer Arizona
Where To Stay in Greer Arizona
A great place to stay is Molly Butler Lodge and Cabins, a little corner of paradise. They offer cabin choices of 1 through 5 bedrooms with amenities including a seasonal restaurant and bar including dining fireside on Molly's patio.
Related Greer Interest
Benny Creek RV Campground
Greer Weather Info
Greer RV Campgrounds
Greer RV Parks
Greer Bed & Breakfasts
Greer No Longer A Secret
How To Get To Greer Arizona
Rolf Hoyer RV Campground
Winn RV Campground