Arizona Renaissance Festival. A Trek Back in Time.
Billed as a Medieval amusement park situated on thirty acres, this famous Renaissance Festival is Arizona's answer to historic entertainment at its best. East of Apache Junction in the Valley of the Sun Greater Phoenix area, thousands will find a memorable time at this winter party that runs on weekends from early February through March each year. Feasting, jousting, and a myriad of arts and crafts, the Arizona Renaissance Festival is a rollicking good time for all visitors to the Phoenix area.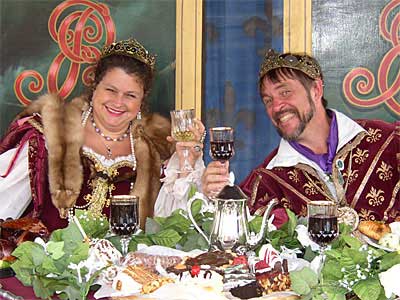 What is the Arizona Renaissance Festival?
This entertaining festival is actually several festivals and events rolled into one incredible setting. The Arizona Renaissance Festival has become one of the largest of its kind in the nation. More than six hundred characters in full Renaissance garb come together to recreate a sixteenth-century marketplace complete with king and court! Visitors will be overwhelmed by the great variety of features from the outdoor circus to the day-long feast to the continuous live entertainers. This fair is like no other.
Festival Attractions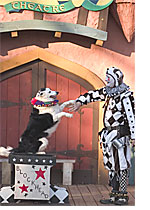 The Medieval marketplace is filled with more than two hundred vendors. From tasty sweets to artisan crafts, this fair is a Renaissance shopper's paradise. Many of the items are one-of-a-kinds that cannot be found anywhere else. Many visitors come to find unique gift items like jeweled goblets or embroidered cloths with old world designs.
The fair boasts many stages that feature continuous all-day entertainment. Comedy, reenactments and live music will cheer guests to this scenic festival. Audiences can munch on steak on a stake while they enjoy a medieval rock band from their seat on one of the benches or hay bales.
The festival also features two pleasure feasts that each last two hours. The food is renowned and visitors will also be treated to entertainment during the course of the meal. The six course meals will transport visitors back to the medieval world. Beer and wine are included in the price of the meal as well.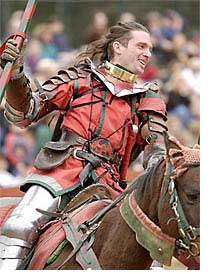 Jousting and falconry are eye-catching events at the festival. These events are spectacular in scope and well worth checking out. Brave knights joust for recognition and the king's favor. The falconry exhibits feature the remarkable birds that will mesmerize young and old alike.
Games and rides are also part of this amusement land. Some include animal rides which are immensely popular with kids. There is also a petting zoo. Some of the games may seem a bit outrageous like tomato and axe throwing, but are guaranteed to provide everyone with a good time.
And what fair would be complete without plethora of street performers. A cast of colorful characters will delight the crowd. Jugglers, street women, courtly aristocrats and jesters make walking around the festival a thrilling event.
Related Apache Junction Interest
Apache Junction Arizona
Apache Trail
Apache Junction Horseback Riding
Apache Junction Map
Apache Junction Renaissance Festival
Apache Junction Weather Info
Fishing Near Apache Junction
Goldfield Ghost Town
Lost Dutchman Mine
Lost Dutchman State Park
Superstition Mountain
Apache Junction Chamber
Tips for Visiting the Festival
Be sure to wear comfortable shoes. There is likely more to see than anyone will be able in one day. Strollers are available to rent. Guests can leave the fair with a hand stamp in order to bring goods to their cars. Pets are not allowed at the festival and outside food and drink may not be brought in either. On sunny days, it helps to have a hat and sun glasses for some of the venues.
Directions To The Festival
The Arizona Renaissance Festival can be found in the foothills of the Superstition Mountains. East of the Gold Canyon Golf Resort, travelers should take State Highway 60 to the fair, which is just east of Apache Junction AZ. Apache Junction is about 35 miles southeast of downtown Phoenix within sight of the Superstition Mountains.
Metro Phoenix