Lost Dutchman State Park At The Superstition Mountains
The Lost Dutchman State Park is named after "Jacob Waltz", a gold prospector who died in 1891 without telling anyone the location of his rich gold mine in the Superstition Mountains. More about that later.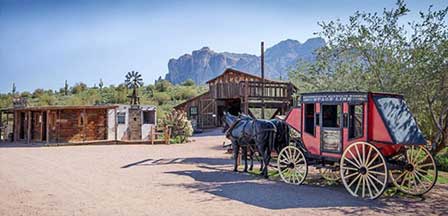 The only gold you're likely to find here is the "golden beauty" of these mountains that are studded with the stately Saguaro Cactus. There are many fabled stories about miners, mysterious deaths and evidence of ancient peoples that once roamed this wilderness, If the Superstitions could speak, they could no doubt mesmerize you with endless stories. Some true, some are likely fiction that are ever evolving with new twists, theories and embellishment.
Silence is also golden here. Although Lost Dutchman State Park lies just beyond the hustle of the city near Apache Junction, Arizona, the silence is an attraction by itself. But isn't that what good hiking is all about? Tranquility and being up close and personal with nature?
The Park's History
There is rich history and legend at Lost Dutchman State Park that extends back thousands of years ago when prehistoric Native American civilizations settled in the area. They left behind treasured gifts of cliff dwellings and ancient artifacts within Superstition Wilderness caves.
Fast-forward to the 1840s. That's when the Peralta Family from Mexico developed a rich gold mine (supposedly) in the Superstition Mountains. Legend has it that the Peraltas died at the hands of Apache Indians and had never told anyone of the location of their gold mine.
As the story evolves, in the 1870s, Jacob Waltz, "the Dutchman" supposedly rediscovered the mine with the aid of a Peralta descendant. Waltz died in 1891 and he too never disclosed the mine's location. Supposedly he left hidden maps that several claimed to have found although to this day there has been no evidence the mine has ever been located. Most "hand-me-down" stories and fake maps place the mine's location near Weaver's Needle.
Over the years, thousands and thousands have tried to find these lost riches. Many have mysteriously died or disappeared during the hunt fueling even more mystery and superstition. Today the legend lives on at "Lost Dutchman State Park" in the shadows of the Superstition Mountains.
Park Recreation and Hiking
Lost Dutchman State Park features five hiking trails ranging from easy to strenuous. The park also has two day use ramada covered picnic areas with tables, fire pits, drinking water and grills. There are 70 regular camping sites and group campgrounds that will accommodate 150 campers. There are no RV hookups. Showers and restrooms are nearby and there is a small amphitheatre. The facilities are fee-based with a $25 fee for the ramada picnic area and a $25 per day camping fee. Fees are subject to change without notice. Reservations are required. Call (480) 982-4485 for more information and visit the Park Website for rules and guidelines.
Related Apache Junction Interest
Apache Junction Arizona
Apache Trail
Apache Junction Horseback Riding
Apache Junction Map
Apache Junction Renaissance Festival
Apache Junction Weather Info
Fishing Near Apache Junction
Goldfield Ghost Town
Lost Dutchman Mine
Lost Dutchman State Park
Superstition Mountain
Apache Junction Chamber
Park Hiking Trails
The close proximity to Greater Phoenix makes it convenient to both residents and visitors. The best time to visit is in the spring when wildflowers are blooming and in the early fall months when temperatures are most pleasant. The summer heat can be uncomfortable. If you decide to hike the trails during the summer months be sure to carry an adequate amount of drinking water which is one gallon per person, per day and always wear comfortable hiking attire. Be sure to bring your camera.
Treasure Loop Trail: Length 2.4 miles round trip, rated moderate, elevation change of 500 feet. It terminates at either picnic area.
Prospector's View Trail: Length 0.7 miles, rated moderate. It connects Siphon Draw Trail with Treasure Loop Trail also connects with Jacob's Crosscut Trail.
Jacob's Crosscut Trail: Trail runs 0.8 miles along the base of the mountain, rated easy. It connects Treasure Loop Trail with Prospector's View Trail, and continues 4.5 miles past the park area along the base of the Superstitions.
Siphon Draw Trail: 4 miles round trip, a very scenic hike, this trail winds up into a canyon known as Siphon Draw. It is possible to hike up the Flatiron (5.8 miles roundtrip), although it is not a designated, maintained trail all the way. It's advised that only experienced hikers in good shape attempt to hike to the top, as the climb is steep and difficult to follow. Allow at least five hours to the Flatiron and back.
Discovery Trail: Connects the campground and day use areas. Features information signs, a wildlife pond, bird feeder and viewing bench.
More Information
Lost Dutchman State Park
Park Staff - (480) 982-4485
Nearby Attractions
If you are looking for other attractions and things to see, consider the Boyce Thompson Arboretum and Goldfield Ghost Town which features a steakhouse and saloon, One of the area's most scenic drives is the Apache Trail which takes you to Canyon Lake and Apache Lake. Taking a Jeep Tour of Apache Trail is a convenient way to enjoy some terrific scenery. Read more about the Superstition Mountains.
Lost Dutchman State Park Picture Gallery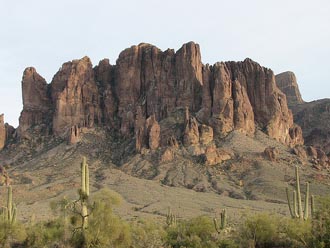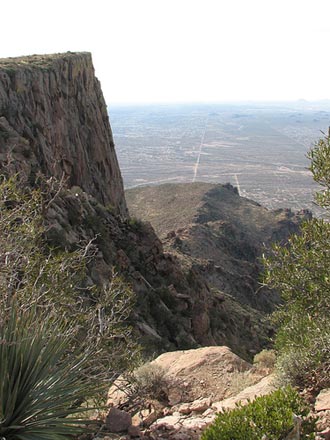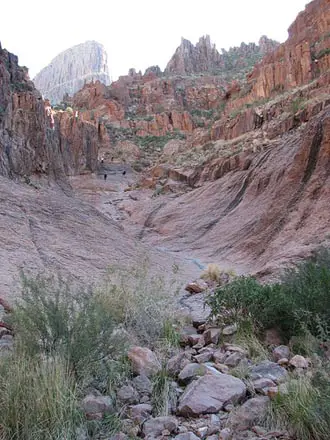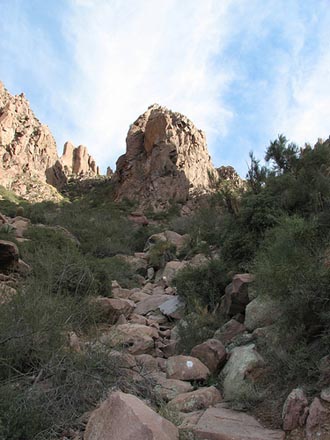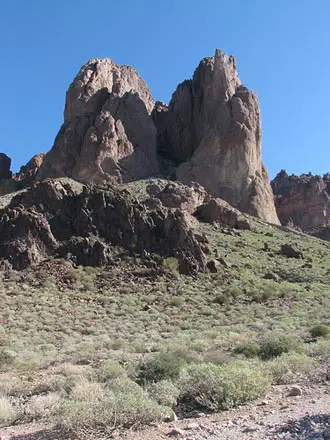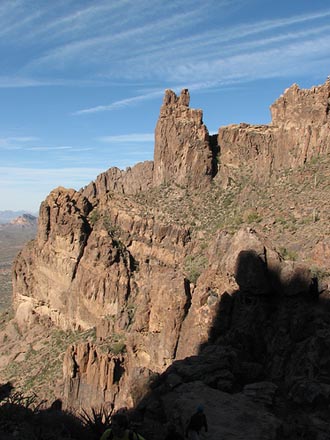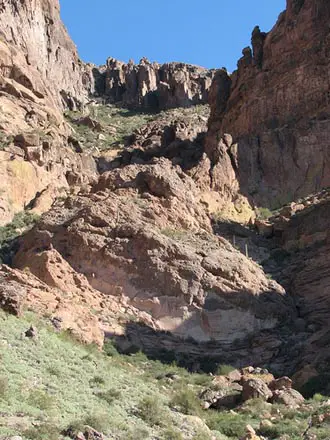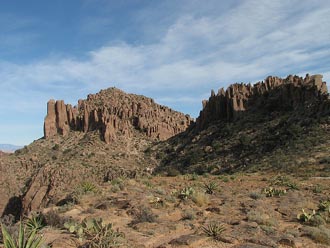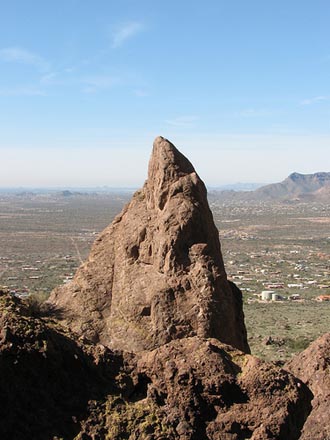 Photos compliments of Matt Mechtley.
Creative Commons.
Metro Phoenix