Colossal Cave Mountain Park
An Attention-Grabbing Experience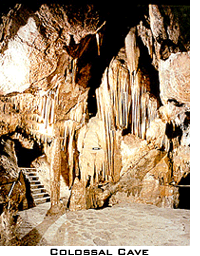 Artifacts confirm that Colossal Cave was used as shelter by the ancient Hohokam Indians
from about 900 through 1450 AD. The peaceful Indians farmed the valley below the cave, which about a thousand years later became known as La Posta Quemada Ranch. Today the cave and ranch are united as Colossal Cave Mountain Park, a historical destination and educational outreach for school children.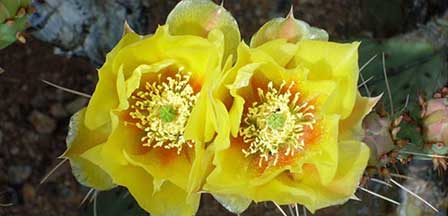 A tour through Colossal Cave is by itself an attention-grabbing experience where natural formations were formed over millions of years. The stalactites, stalagmites and majestic columns were created by slow-seeping ground water through the limestone ceilings. As arid conditions evolved, Colossal Cave became totally dry , stopping the growth of new formations. Interestingly, although outside summer temperatures can become quite high in the desert area, the temperature inside Colossal Cave is always a cool 70 degrees Fahrenheit year-round.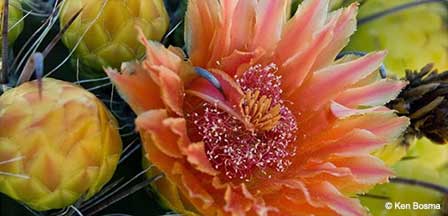 Colossal Cave has never been fully explored. Although there are an estimated 39 miles of cave tunnels, it took over two years to map just two miles of passageway where tours penetrate six stories deep into the cave. Visitors can choose from ongoing daily "generic tours" or can arrange more adventurous tours through darkened more narrow passages requiring hardhats and good physical fitness. There are even "candlelight tours" where each visitor is given a lighted candle to experience the cave as the Hohokam did over a thousand years ago without electric-powered lights.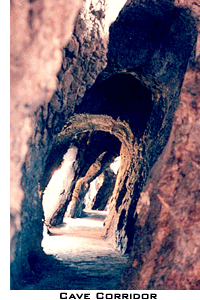 Officially, Colossal Cave was discovered by Soloman Lick in 1879. While searching for stray cows on the vast ranch, he accidentally came upon its narrow opening. That same entrance has been enlarged within a modern setting that overlooks the panoramic views of La Posta Quemada Ranch into over 2,000 acres of Colossal Cave Mountain Park.
There are actually two caves. The first of course is Colossal Cave which visitors tour daily. The other is "Arkenstone", a "live cave" which continues to grow formations. Arkenstone has been designated a research site and access is limited to only scientific researchers. A collection of photographs by Randy Gruss at the La Posta Quemada Ranch Museum gives the public amazing views of the beauty inside Arkenstone Cave.
The "cowboy days" in the late 1800s spawns stories of train robbers and escaped convicts that used the caves as a hiding place. Perhaps the most famous were John Maier and Josiah "Kid" Smith who were eventually shot by the Wells Fargo Messenger, J. Ernest Smith. A third bandit of the group that had robbed a train near El Paso named George Green was captured and sentenced to five years at the Yuma Arizona Territorial Prison.
La Posta Quemada Ranch has been a working ranch since the mid 1870s. The Southern Pacific Line operated a stagecoach station at the ranch that was burned in 1875. Hence, the Posta Quemada name, which means "burnt station". Today the ranch includes an active museum to promote public education and cultural history. Visitors will enjoy the artifacts with information on past indigenous cultures.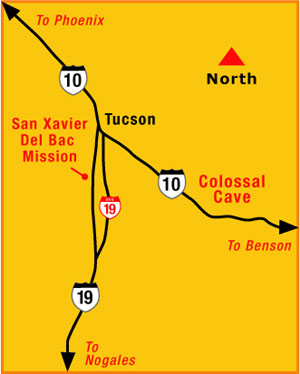 Visitors to Colossal Cave and the ranch which is just 22 miles southeast of Tucson Arizona offers many ways to explore the park including trail rides, hayrides, cattle drives, cowboy style cookouts and pack trips through unspoiled Sonoran Desert nature. It's a great way for groups and families who visit the part to experience the Colossal Cave and great outdoor recreation as well. When visiting, make sure to see the Desert Tortoise Exhibit. Also see the Butterfly Garden, a colorful haven of different species that highlights the full lifecycle of butterflies.
There are many motels in Tucson and nearby Benson Arizona that are conveniently located to Colossal Cave. Please visit the Colossal Cave Mountain Park website for more interesting insight into the history of the cave and ranch. There you will find a Colossal Cave online gift shop, detailed directions and contacts to arrange group tours and outdoor recreational enjoyment.
Related Tucson Interest
Tucson Arizona
Colossal Cave Arizona
Kartchner Caverns Animal Life
Kartchner Caverns Map
Kartchner Caverns
Kartchner Caverns Formation-Creation
Saguaro National Park
San Xavier Del Bac Mission Map
San Xavier Del Bac Mission
Tucson Area Map
Tucson Arizona
Tucson Bed & Breakfasts
Tucson Jeep & Hummer Tours
Tucson Pictures
Tucson Sightseeing Tours
Tucson Weather Info
Southern Arizona Destinations