Kartchner Caverns State Park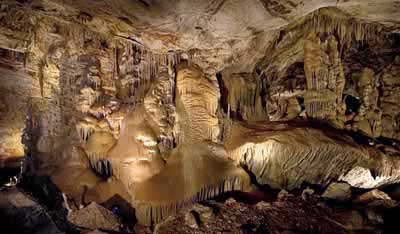 Big Room in Kartchner Caverns. Creative Commons License
Unearthing A Natural Wonder
Quietly nestled beneath the Sonoran Desert, it took nature millions of years to sculpt these majestic cave formations. Accidentally discovered in 1974 and recently opened to the public in1999, Kartchner Caverns is rated one of the World's Top 10 Caves by experts for its vast and incredibly unique mineral formations. It's the only one of the ten open for public viewing in the United States.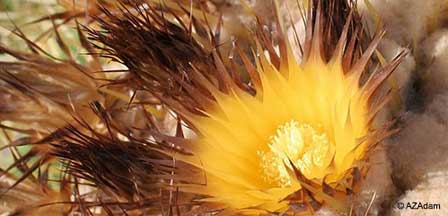 Deep below the extreme desert surface in southeastern Arizona, a cave system - a geological void of gigantic proportions -- hides its riches from the eye of Phoebus. Existing in its own delicate micro-climate for over 200,000 years, the caverns clutch in their dominion a wide variety of priceless calcite decorations called speleothems. Until recently, travelers passing among the saguaros and creosote were unaware of the vast space, cool damp and quiet, lying secretly beneath them.
This underground labyrinth, boasting 13,000 feet of passages and rooms the length of football fields, was a magnitudinous discovery for two amateur cavers who, in 1974, first entered its embrace. During a day of exploration, Randy Tufts and Gary Tenen, both from Tucson, wriggled through a small sink hole twelve miles south of Benson. They spent hours making slow passage through a narrow tunnel and breaking through a small barrier of bedrock before finding themselves inside a long corridor; one that eventually opened into several enormous chambers. During subsequent clandestine visits, the spelunkers carefully investigated the interior, their lambent headlamps revealing pristine subterranean habitat and a myriad of unusual multi-colored formations.
Knowing they had unearthed a valuable landmark and afraid that exposing such a significant find without thoughtful preparation would lead to the caverns being exploited and damaged, the men kept their discovery a secret for fourteen years. In 1988, after protective measures were in place to control access and oversee preservation, the location was officially announced to the public as Kartchner Caverns, named after the rancher who owned the land.
Interest about the new attraction quickly swelled to excitement, but would-be tourists had to wait over a decade to be invited in. Conservationists studied the environment to determine the best ways to minimize impact. An educational facility was designed and constructed nearby. Entrances were established and the caverns were mapped into distinct rooms, passages and points of interest: The Big Room, Throne Room, Echo Passage, Rotunda Room, Mud Flats, Strawberry Room and Subway Tunnel. Then, on November 12, 1999, after 28 million dollars had been spent in development, the site opened as Kartchner Caverns State Park and visitors from around the globe began their pilgrimage to see the caves' world-class formations.
Inside the caverns, darkness and humidity prevail. The echo of dripping water resounding off the cave's ancient limestone walls hints at its immense size, and the still moist air enjoys undisturbed slumber except for the occasional rapid wing beats of a myotis bat. Completely closed to the outside except for small fissures, with an average temperature of 68 degrees and relative humidity at a stifling 99%, visitors face mixed emotions upon entering this earthen basement. Initially awed by the spaciousness, later challenged by the encapsulation, most spectators become acutely fascinated by the majestic features that beckon their eye with peculiar shapes and vivid color.
Stalactites hang like colossal icicles, mirrored by Stalagmites projecting up from the floor. Some of them meet to form columns. One stalactite and stalagmite in the Throne Room have joined together in 58-feet of organic matrimony, producing the tallest column in Arizona. This extraordinary travertine sculpture is called Kubla Khan, perhaps for its meaning: a poetic fragment. The Throne Room also displays the longest recorded calcite soda straw in the world, reaching a stunning 21 feet, 2 inches.
The shape of any given speleothem is determined by the way water flows, drips and pools inside the caverns. It takes approximately 100 years to form a single square inch of fragile calcite as mineral-rich moisture from the surface seeps in and leaves its deposits. Formations, like bacon draperies, quartz boxwork, brushite moonmilk, shields, totems and cascades of flowstone are marvels of nature rarely seen by human eyes. Alive and still growing in Kartchner Caverns, they draw 200,000 annual visitors seeking a glimpse of their astounding beauty.
But touring the caves is only part of the Kartchner Caverns State Park experience.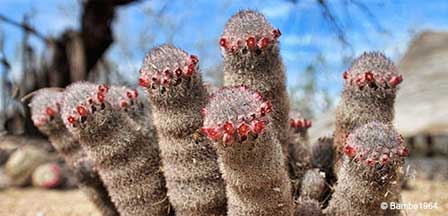 The 23,000-square-foot Discovery Center hosts several prestigious exhibits, a replica of the caverns, educational information, a gift shop and visitor services.
Other park features include a picnic area, shaded dining area, vending machines, an amphitheatre, campgrounds, hiking and walking trails, and the Hummingbird Garden. 500,000 - 700,000 people visit the 550-acre property each year, exploring the land and the natural riches in its hold.
Kartchner Caverns Video Overview
Directions To Kartchner Caverns
Kartchner Caverns State Park is located about 50 miles south of Tucson between Benson and Sierra Vista Arizona. Travel interstate I-10 East and take Exit 302 and proceed 9 miles south on highway Arizona 90. See our Location Map below.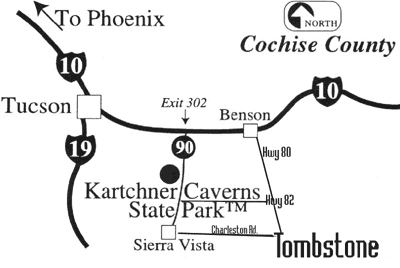 For More Information
Visit the Arizona State Parks' website for more detail including schedules, park rules and entry fees.
Kartchner Caverns
Kartchner Overview
Animal Life in the Caverns
How Caverns Were Formed
Map Directions To Kartchner Caverns State Park

*Kartchner Caverns State Park is a Registered Trademark of AZ State Parks
Related Tucson Interest
Tucson Arizona
Colossal Cave Arizona
Kartchner Caverns Animal Life
Kartchner Caverns Map
Kartchner Caverns
Kartchner Caverns Formation-Creation
Saguaro National Park
San Xavier Del Bac Mission Map
San Xavier Del Bac Mission
Tucson Area Map
Tucson Arizona
Tucson Bed & Breakfasts
Tucson Jeep & Hummer Tours
Tucson Pictures
Tucson Sightseeing Tours
Tucson Weather Info
Southern Arizona Destinations