Animal Life in Kartchner Caverns
Although recognized for its geologically prosperity, Kartchner Caverns holds treasures beyond abundant ornamentation. Paleontologists have uncovered prehistoric fossils dating back to the Pleistocene Era (the Ice Age) including an 86,000 year old Shasta ground sloth, a 34,000 year old horse and an 11,000 year old bear. The early remains of rabbits, snakes, rodents, a coyote and ringtail, snails, a clam, toad and lizards were discovered as well.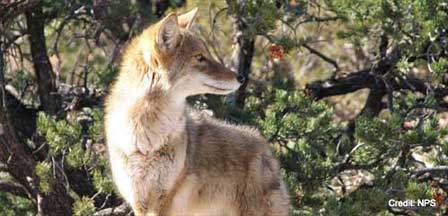 While few invertebrates still inhabit the caverns, a thousand insectivorous bats, primarily pregnant females, roost in the Big Room from May to mid-September, each giving birth to a single offspring and rearing their young to emancipation. These mammals, the only link to the outside world, are essential to the stability of the internal ecosystem. Their droppings, called guano, are rich with nutrients from nighttime foraging and support a complex array of fauna at the microscopic level, acting as the foundation for the cave's food-chain. Fungi, bacteria, nematodes, mites, spiders, scorpions, centipedes, crickets and beetles all contribute to the bionetwork that allows the cavern to thrive in seclusion.
Preservation of this tiny universe remains the human caretakers' utmost priority. The park is situated between the Sonoran and Chihuahuan deserts where annual evaporation at the surface is 800 times greater than inside the caverns. This imbalance requires rigorous management of airflow. Exposed, even briefly, to the dry exterior, the cave's fragile ecosystem could be permanently destroyed. Crucial efforts are taken to limit the caves' vulnerability. Under keen supervision, twenty underground environmental stations measure critical scientific data including airflow, relative humidity, evaporations rates, air temperatures and trace gases and the entire area is carefully cleaned and locked up each evening when the park closes. Diligence is the key to maintaining the health and longevity of the caverns.
Kartchner Caverns
Kartchner Overview
Animal Life in the Caverns
How Caverns Were Formed
Map Directions To Kartchner Caverns State Park

*Kartchner Caverns State Park is a Registered Trademark of AZ State Parks