Luna Lake RV Campground And Tent Camping
The Luna Campground is located about 3 miles east of Alpine, Arizona and its 50 single campsites permit both RV Camping and tent camping. RV Motor Homes and trailers are limited to a 32 foot length. There are no utility hookups. Each campground site includes tables, fire rings and cooking grills. Checkout Luna Lake.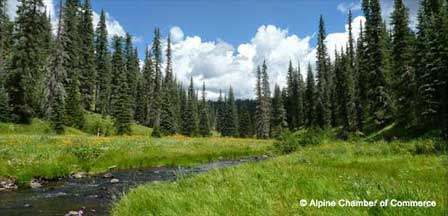 Although the campgrounds are open all year, there are no trash pickup during the off-season, so pack out what you pack in. A concessionaire is onsite from Memorial Day through Labor Day. Pets are permitted on leash.
Common facilities include toilets, paved parking, and a boat ramp on the lake which is an easy walk from the RV and tent camping ground. Expect beautiful mountain scenery which is common in Alpine, AZ. Nominal fees apply and reservations are accepted.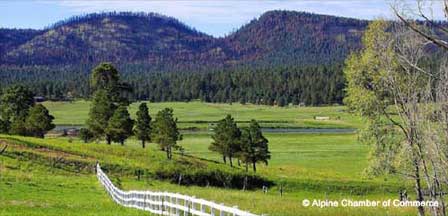 Directions On Getting To Luna Lake Campground
From Alpine. Drive five miles east on US Highway 180 and turn north (left) on Forest Road 570 just east of Luna Lake. A graveled all-weather road leads one mile to the campground.
GPS Location
Latitude: 33.83533611
Longitude: -109.0821056
More Information and Reservations
Alpine Ranger District
(928) 339-5000
TTY: (928) 339-4566
Reservations: (877) 444-6777
Related Interest
Alpine Arizona
Average Alpine Temperatures
Alpine RV Parks
Alpine Arizona Cabins
Hannagan RV Campground
Arizona White Mountains
Alpine Horseback Riding