Sprucedale Guest Ranch is off the beaten path, with a road that ends at its gate. The ranch setting makes for a safe place for children to roam and experience life on a cattle/horse ranch. When not on a horse, children love to splash in the creek or play basketball or volleyball.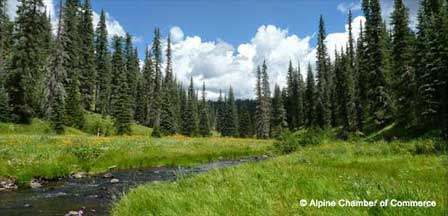 Parents love to sit on their front porch and relax or read or just absorb awesome views. The accommodations are rustic, cozy, clean cabins. Each rustic cabin has its own bathroom, and a wood burning stove for the cool evenings.
Although many of our guests love to ride our well-trained horses, many guests also have a great time and never even put their foot in a stirrup! Because of Sprucedale's beautiful setting and abundance of wildlife, many come to enjoy hiking, mountain biking, fishing or just sitting on the porch enjoying the peace and quiet. There are also special events.
The Wiltbank family and their capable and friendly crew serve up great home-cooked meals family style. The ranch wranglers make the horse rides through the timbered meadows and along the streams safe and enjoyable.
Many a family reunion has been held at Sprucedale, along with corporate groups and seminars. Sprucedale is a haven for those who want to get away from it all and have a great time doing it!
Sprucedale Guest Ranch
HC 61 Box 10
Alpine, Arizona 85290
928-333-4984
Related Alpine Interest
Alpine Arizona
Alpine Arizona Cabins
Alpine Arizona RV Parks
Alpine Arizona Weather
Alpine Arizona Bed & Breakfast
Hannagan RV Campground
Josh Ranch Alpine Arizona
Sprucedale Guest Ranch Alpine