Magic in the Painted Desert
It was supposed to be a rest stop on the way from Albuquerque to Flagstaff, a leg-stretching interval in an air conditioned visitor center and something to drink in the desert country, which always inspires thirst in me. It turned into ever so much more.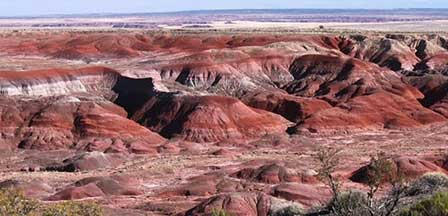 Sliding off Interstate 40, at Exit 311, we found the Painted Desert Visitor Center. It was not inordinately busy, judging by the cars parked outside. This, we decided, was exactly what we were looking for.
We had no idea.
Three quarters of an hour later, we emerged, having accomplished what we stopped for, but also having viewed an orientation film about the area, checked out displays and brochures, and bought snacks to tide us over to what promised to be a late supper. We had determined to explore this fascinating place, if only on a drive-through tour.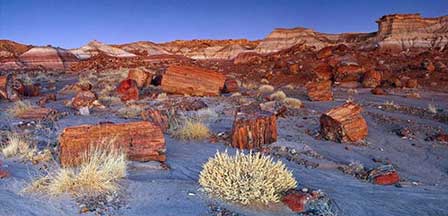 We came to the Painted Desert and Petrified Forest area on a clear day in May. A later start than planned meant we arrived past mid-afternoon as shadows were beginning to lengthen and the warming light picked out the details and deepened the colors of the rocky landscape. We later learned that this was considered optimum timing; given colors washed out by high sunlight at midday we might pretty quickly have moved on.
A couple of miles north of the visitor center is the Painted Desert Inn (since restored as a historic landmark) where travelers on old Route 66 used to stay. A line of telephone poles still marks the route this historic road once took across what is now park land.
There's some pretty spectacular geology to view in the Painted Desert/Forest, like The Teepees. These are conical hills carved by wind and weather. In their blue and red mudstone, minerals like iron, manganese, and others minerals paint vivid colors in the rocks.
Views along Painted Desert Rim Drive generally are spectacular, with plenty of places to pull off for the view. Somewhere along the drive at one of the many pullouts, it happened. In subsequent trips, I could never be sure of the place again.
The clear air of the desert sometimes lets you see land forms as much as 100 miles away as if they were quite close at hand. If you've driven in the west, you know that trick of visibility; buttes and mountains seem virtually unreachable, even after hours of driving.
Perversely, that afternoon, It seemed as if I could see back in time in as clear a way. We had stopped at a pullout where the elevation let us see the light and color show to best advantage.
Here, as along much of our route, there were no other visitors, and I was able to drop down to a comfortably ample rock ledge about 5 feet or so below the level of the grade and out of the wind. It had a nice sense of privacy, being out of sight of the road and the car and anything else not a permanent part of this timeless landscape.
Suddenly, looking out at the changing light, my whole sense of self seemed to dissolve. I was straining to see, far out in the rocky distance, a horse and rider approaching. I had a very strong sense of belonging to this place; in a flash of insight, I was an Indian woman watching for someone who might not return.
Just as quickly, I righted myself in space and time. It had lasted only for a moment, but so strong was the impression that, as I slumped back against the bank and drew in my breath sharply, I was startled to look down and see that I was wearing blue jeans.
At least three prehistoric cultures --the Anasazi, the Mogollon, and the Sinagua - lived in this part of Arizona during the last 10,000 years, the museum literature said. Was I one of them, or a later, unconnected stray just passing through, anxious to go on? I have no clue.
The empty western lands often played tricks on the minds of settlers from the east, accustomed as they were to trees, intimate distances, and no unremitting wind that was a constant presence across the broad western spaces. I was certainly alien to the sweep and breadth of these vistas; a southern girl used to live oaks and Spanish moss, but admittedly more the steel magnolia than the southern belle: I saw starlight but not stardust.
Somehow, though, for just that moment in time, I slipped behind the curtain onto a different stage. It never happened before; it's never happened since. It was a very long time before I told anyone about my experience, but to this day, I treasure it. I also treasure the unique, protected Arizona landscape which somehow made it all possible.
Driving on, we also explored south of the Interstate, going directly the 30 or so miles to the Rainbow Forest Museum to make it before closing.
Later we went back to dawdle and sightsee along the loop through Blue Mesa's lunar landscape, and paused at the Crystal Forest.
We had learned at the museum that this "forest" used to be inordinately beautiful with sparkling quartz crystals filling many crevices in the petrified trees. Tourists hacking out souvenirs had stripped them of their crystalline beauty. Only small bits were left.
Interestingly, the museum displayed a collection of letters of apology from visitors who took rocks from the park and later had a crisis of conscience. With their notes, most sent back the stolen rocks.
It was fascinating to see huge downed trees and logs, which we had to remind ourselves were not wood now. They looked like a giant's sculpture garden, except that these very realistic "sculptures" weigh 168 pounds per cubic foot.
It was time to go, to exit the southern end of the park on US 180 and continue on our desultory way west through Holbrook.
Moving in a world of colored fire, we drove on through the setting sunlight. The day was gone and the light drained from the darkening sky. We rode silently, both still a little dazzled by the remembered color and light.
Related Painted Desert Interest
Painted Desert
Magic In The Painted Desert
Ancient People Petrified Forest
Map & Directions Petrified Forest
Petrified Forest Painted Desert Photos
Petrified Forest