Map and Directions
The Petrified Forest and Painted Desert are located in Northeast Arizona 95 miles east of Flagstaff and 55 miles from the New Mexico border along Interstate 40. Entrance to the Park is about 25 miles east of Holbrook, Arizona.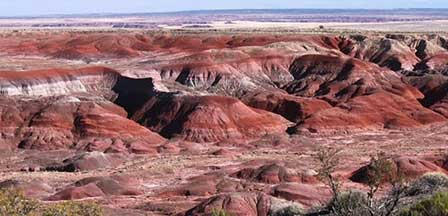 Eastbound Interstate 40. Take Exit 285 into Holbrook. Then travel 19 miles on Highway 180 South to the South Entrance. Drive the 27 miles north through the Petrified Forest park and the Painted Desert. Then return to Interstate 40.
Westbound Interstate 40. Take Exit 311, then drive 28 miles through the park and connect with Highway 180 at the south end of the park. To return back to Interstate 40, take Highway 180 North for about 19 miles to the freeway. The Approximate driving distance is 259 miles.
From North and West Phoenix. Take I-17 North to Flagstaff. Then East on I-40. Then follow the Eastbound on Interstate 40 directions above.
From East Phoenix Areas. Take Highway 87 North to Payson, AZ. Then Highway 260 to Heber. Then Highway 377 North to Holbrook. From Holbrook, take 180 South to the South Entrance to Petrified Forest National Park. Approximately 215 miles total depending upon origination point. This a very scenic drive.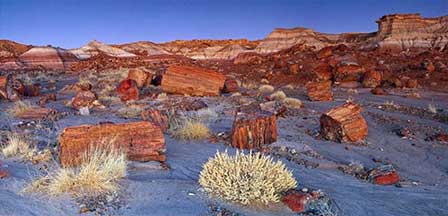 Painted Desert Visitor Center and Park Headquarters
Latitude: 35.06543746738773
Longitude: -109.78153824806213
Rainbow Forest Museum
Latitude: 34.81517743163217
Longitude: -109.86576497554779
Painted Desert Inn National Historic Landmark
Latitude: 35.08343319608185
Longitude: -109.78861391544342
Map of Petrified Forest and Painted Desert
Click map for enlarged view.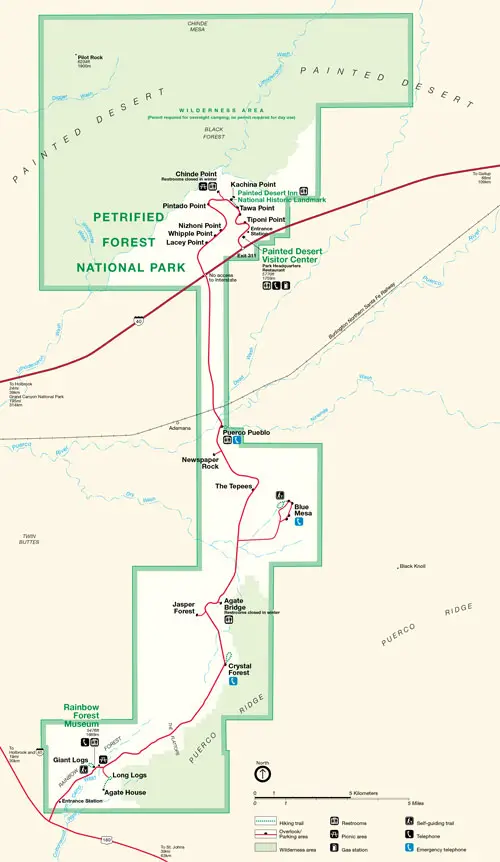 Best Time To Visit The Petrified Forest
Late Spring and early Fall are the best times to visit when temperatures are most mild. Can be a bit warm in the middle of Summer, but Summer rains will enhance the beauty of the park. Winters can become cold with dusting of snow at certain times. Read "Magic in the Painted Desert" for a great description of the experience.
Related Painted Desert Interest
Painted Desert
Magic In The Painted Desert
Ancient People Petrified Forest
Map & Directions Petrified Forest
Petrified Forest Painted Desert Photos
Petrified Forest