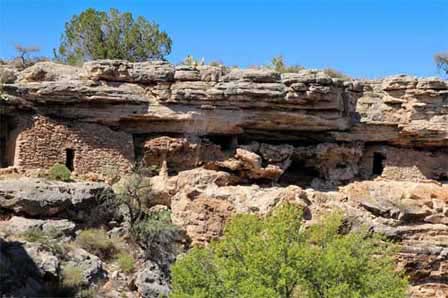 Indian Ruins Along The Rim Above The Well. © Perry Quan
Montezuma Well is part of the Montezuma Castle National Monument even though the cliff dwellings of Montezuma Castle are located about 11 miles south of Montezuma Well. Several ancient dwelling ruins still stand on the sides of the rim above the well.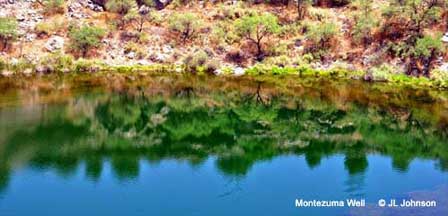 Take your time and discover the tranquility of a site that has been an oasis for wildlife and people for thousands of years. The Well was once home to the Sinagua Indians who mysteriously left the area over 800 years ago.
Located near Sedona and Camp Verde, Arizona, Montezuma Well is a famous Arizona sinkhole with a long past stretching back to prehistoric times. Boasting a unique ecosystem and oasis-like environment, the Well attracts many visitors to its bubbly shores. The legacy of the Sinagua culture surrounds you with cliff dwellings perched along the rim to large pueblo ruins and an ancient pit house.
Montezuma Well got its name from the mistaken belief that Montezuma, the infamous Aztec chief, actually lived in the nearby ruins of Montezuma Castle. Since the Aztecs never settled in this area, there is little doubt Chief Montezuma ever lived at the "castle" or set eyes on the well.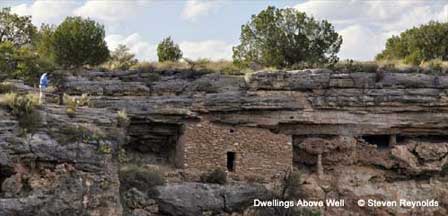 About Montezuma Well
Montezuma Well is 368 feet wide with a consistent depth of fifty-five feet. This natural limestone sinkhole is continuously fed by underground springs. Over 1,400,000 gallons of water from the springs flow through the sinkhole every day. Water from the Well is highly carbonated due to high levels of carbon dioxide. With very little oxygen, the Well does not support fish.
Water from the springs enters a "swallet" and flows through over 150 feet of limestone before re-emerging from an outlet into an irrigation ditch on the opposite side before flowing into Beaver Creek. Sections of the irrigation system were originalyy built by the ancient Sinagua.
The temperature difference at the outlet can be up to 20 degrees cooler versus water along the rim of the Well, making it easy to imagine the people of the Sinagua culture spending hot summer days in this tranquil setting along the forest-shaded trail. This area is still considered sacred by modern day Indian Tribes.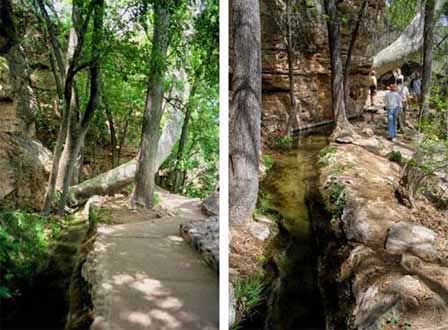 Operating Hours and Amenities
Montezuma Well is open every day except Christmas Day from 8:00 AM to 5 PM. Dogs are permitted on the trail but must be on leash. There is a museum onsite. There are restrooms and picnic areas. Nominal entrance fees are required for visitors over 15 years-old.
Map Location of Montezuma Well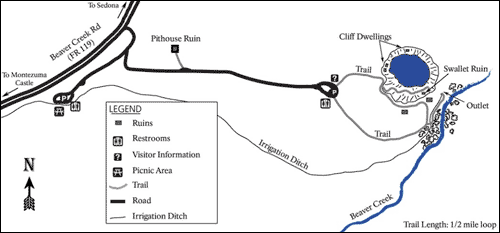 How To Get To Montezuma Well
From Phoenix or Flagstaff. Take I 17 either North from Phoenix or South from Flagstaff. Exit at Exit 293 East about 4 miles to the entrance.
Indian Ruins In Arizona
Arizona Indian Ruins
Canyon de Chelly
Casa Grande Ruins
Montezuma Castle
Map & Directions Montezuma Castle
Montezuma Well
Palatki Indian Ruins
Pueblo Grande
Walnut Canyon
Wupatki Ruins
Montezuma Well NPS
Montezuma Castle
Other Indian Ruins in Arizona