Prescott Arizona
Prescott is down home friendly. The old-timer natives still call it "Preskitt". New residents and vacationers call it the cool summer escape from the hot weather in the desert cities. Emerging from its western mining roots in 1838, Prescott Arizona still maintains its old west flavor from its "rough and tough days" in the saloons of Whiskey Row, the natural stone buildings in historic downtown and the old Victorian architecture of the Mt. Vernon Historic District. Prescott AZ has more than 500 buildings on the National Register of Historic Buildings, and continues to make preservation a priority.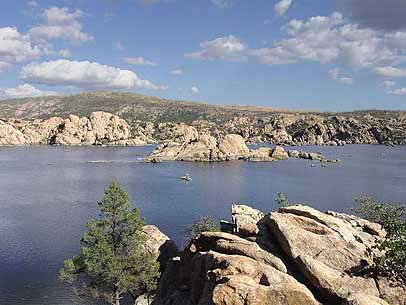 Creative Commons
Landscape and Environment
Prescott is nestled in the heart of the Prescott National Forest at an elevation of about 5,300 feet and enjoys a temperate, four-season climate with more than 300 days of annual sunshine. This is cool, refreshing pine tree country with scenic crystal clear mountain lakes. Spring brings meadows of wildflowers and summer features high temperatures that rarely reach 90 degrees. With the arrival of autumn, the creek bottoms explode in fall color and when winter arrives, expect the beauty of fresh fallen to cover the landscape. Wildlife is abundant in the area including deer and herds of Pronghorn Antelope hangout in the grassy foothills just east of Prescott.
Temperatures in Prescott are generally about 20 degrees cooler than the desert cities of Phoenix and Scottsdale. If you love beautiful forested scenery, small town hospitality, rich historical tradition and getaway tranquility, Prescott is your kind of vacation place.
Recreation, Hiking and Attractions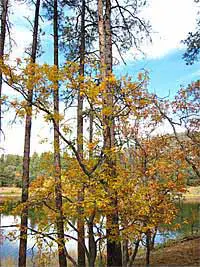 Creative Commons
Prescott, Arizona is all about atmosphere and outdoor adventure. If canoeing, pickleball, fishing and picnicking and hiking is your thing, there are several small, yet very scenic lakes in the Prescott area including Lynx Lake, Goldwater Lake, Watson Lake, Granite Basins Lake and the Willow Creek Reservoir. You'll find easy hiking trails along the lakes and more adventuresome hiking trails deeper into the Prescott National Forest.
The temperate climate offers year-round golfing at six outstanding affordable public golf courses and private golf clubs that feature luxury living in gated communities. Golfing in Prescott is particularly ideal during the summer months.
During peak vacation season, there is an exciting special event almost every week during May through December. Attractions such as the World's Oldest Rodeo during Prescott's Frontier Days, the Arizona Cowboys Poets Gathering, the Shakespeare Festival, the Faire on the Square and a weekly Farmer Market. Just hanging out in the Town Square is fun watching people, street entertainers and watching outdoor movies.
If you enjoy quaint and unique shopping, you'll love Prescott. There are over 90 shopping places including antique treasures, boutiques, gift stores, jewelry crafts and Indian Arts. For more traditional shopping, the Prescott Gateway Mall and Frontier Plaza are just a short drive from downtown Prescott.
Prescott becomes "Arizona's Christmas City" when the holidays arrive. During December, the 19th century-built courthouse is bathed in a brilliant fountain of lights. One of the most popular highlights is the Acker Musical Showcase where one evening each year in downtown the merchants open their doors to host the area's best entertainers.
Museums and Cultural Destinations
If your interests are culture, tradition and history, there are many "Passports to Culture" in Prescott including the Sharlot Hall Museum, Prescott Fine Arts Museum, Phippen Museum, Smoki Museum, Heritage Park Zoo an the Highland Center for Natural History. Combined with the over 500 buildings and homes on the National Register of Historic Buildings, there's plenty of history and culture venues to found in Prescott, Arizona.
Prescott Lodging
Choose among discounted Prescott Hotels. Also find many quaint and romantic bed and breakfasts in Prescott AZ.
More Information
Prescott National Forest
Prescott Map and Directions
Prescott Pictures
In The Pines Around Prescott