History Lives On In Prescott Arizona
Nowhere is Arizona's Territorial History so beautifully preserved as in Prescott, AZ. Prescott began as a mining town with the discovery of gold. In 1864 Arizona became a territory and Prescott was selected to be the capital. It held the title until 1889 when Tucson was awarded the distinction. Although Phoenix now holds the title of State Capital, Prescott has many historical remnants of its early territorial days, many of which are well preserved, at the Sharlot Hall Museum which is home to much of Prescott's wild west history, including the first territorial governor's mansion on its original site.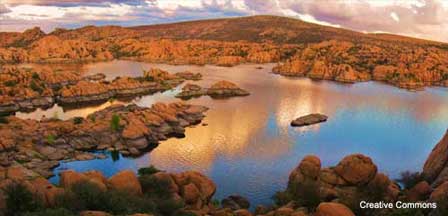 Over 600 buildings listed on the National Register of Historic Places are beautifully preserved in Prescott's downtown and residential areas. Victorian homes line the streets in several of Prescott's historic districts. Once home to more than 26 saloons, downtown Whiskey Row boasts many historic buildings including the Palace, Arizona's oldest restaurant and bar, and many other buildings that have been converted to boutiques, art galleries and restaurants.
The Smoki and Phippen museums also contribute to the cultural climate of the area. The Smoki features American Indian artifacts and weavings, while the Phippen boasts a beautiful collection of Western art. Prescott celebrates its territorial heritage at several special events throughout the summer including the World's Oldest Rodeo over July 4th weekend, and Territorial Days in June.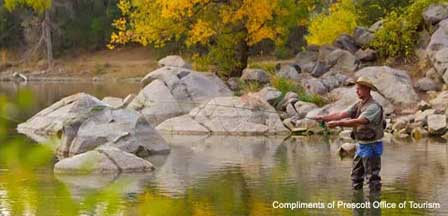 Old Time Nostalgia
Prescott's rich past can be explored today along historic Whiskey Row has been transformed into a thriving shopping district. In 1900, a devastating fire, originating on the southwest corner of the plaza, destroyed all of Whiskey Row and much of the downtown area. Legend has it that the patrons in the Palace picked up the massive bar and carried it across the street to the Courthouse Plaza to continue their drinking and carousing.
The town quickly rebuilt around the tree-lined plaza and today, Whiskey Row is a lively, upscale version of its former self. Several historic restaurants and bars still exist including the Palace and Jersey Lilly's. Unique shops, galleries and cozy bistros are tucked in and around "the Row".
Prescott's back roads also provide a nostalgic trip back in time. The Highway 89- loop drive from Prescott to Sedona via Highway 89-A has been voted by Fodor's, as one of America's most scenic drives. On the way you will pass through the historic ghost town of Jerome, the turnoff to Montezuma's Well and to the Tuzigoot National Monument.
Along Highway 89 heading north toward Chino Valley, you will also see some other historic and interesting sites such as Del Rio Springs, the first site of Ft. Whipple; Sullivan Lake just off of Old Highway 89 is site of the dam built in 1938 to keep back the Chino wash. If you like off-road adventures, visit Limestone Canyon off Highway 89 near milepost 344, or Cedar Glades Cemetery that is all that remains of the community of Puntenney. Drake, AZ is another historic stop off Highway 89 on the Perkinsville Rd. It was a major stop for the Burlington Northern-Santa Fe railroad. Also along Perkinsville Rd. is Jerome Junction, where the railroad from Jerome would stop to transfer its load of copper. Other interesting sites you might find along Prescott's backroads include abandoned mining sites and historic ranches. The backroads around Prescott are also popular for road rallies.
Current and Ancient Indian Nations
Prescott is home to the Yavapai Prescott Indian Tribe. The Yavapais roamed this area many years before white settlers discovered Arizona. They are well known for their finely crafted baskets made of devils claw and willow. In tribal culture, the baskets were used for everything from hauling wood to cooking stew and were incredibly resilient. Today the Tribe consists of 155 members and has a strong business presence in the community. Several casinos occupy reservation land, along with other businesses that provide jobs for thousands of Prescott residents. The Tribe is also a generous philanthropist, donating thousands of dollars to local charities.
Much of the local American Indian history is documented at the Smoki Museum and the Sharlot Hall Museum. You can also see ancient Indian ruins out at Lynx Lake, and many of Prescott's hiking trails lead past ancient petroglyphs.
In July of each year, American Indian heritage is celebrated at the Prescott Indian Art Market. Sponsored by the Sharlot Hall Museum, the event showcases the work of formal and traditional Native American artists.
In The Pines Around Prescott