Lynx Lake Campground
Prescott Arizona Camping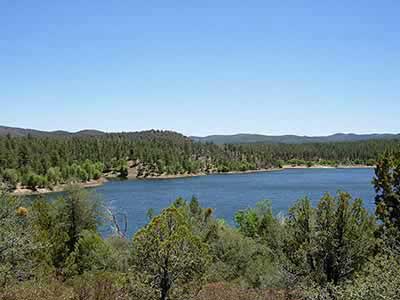 Lynx Lake. Creative Commons © Benjamin Cody
One of the most popular camping lakes in Arizona. Its campground sets at an elevation of about 5,600 feet within a cool and scenic Ponderosa Pine forest located about 7-miles southeast of Prescott AZ. Features an abundance of outdoor recreation.
The campgrounds include 35 campsites that set about one-quarter mile from the lake's western shoreline. This sky blue 55-acre surface lake offers fishing, boating, hiking trails, archaeological sites, biking and horseback riding.
Lynx Lake Campground Features
Campgrounds. There are 35 campsites of which three (3) camping sites are fully accessible to those with disabilities. There are two (2) double campsites for larger groups. Each site includes fire ring, picnic table, a grill and tent pad. A steel ramada and lantern hangers are available on selected camp sites.
Campground road and site spurs are paved with asphalt. Campsite driveways are either parallel, pull-through or back-in depending upon the selected site. Maximum vehicle length is 40 feet. There are four vault toilets, two flush toilets, eight water faucets and six trash dumpsters common for the overall campground.
Open Season. Begins in April through October, weather permitting.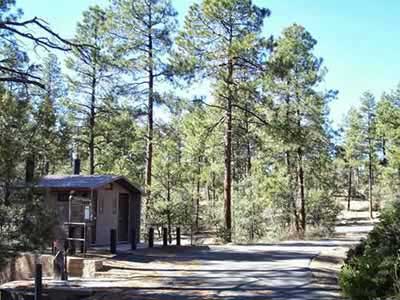 Amenities. A campground host is typically onsite for camper convenience. Lynx Lake Store and Marina near the North Shore Day-Use Area offers a restaurant, store, boat rentals, firewood, fishing and camping supplies.
Campsite Fees. At the time this article was written, the fee for a single campsite is $18 and $36 for a double campsite per night. Base fees include one vehicle. There is a fee of $5 per extra vehicle. All fees are subject to change without prior notice. There is a self-pay station. Please call to verify current rates.
Campground Reservations. Reservations are highly encouraged, particularly during peak season. Contact Recreation.Gov for reservation, campsite selection and date range availability.
Boating. A boat ramp is available with restrictions to 10 HP electric motors or less. Sail-powered, paddle and oar boats are permitted.
Fishing. Lynx Lake is periodically stocked with rainbow trout. A State of Arizona fishing license is required for all anglers over the age of 13.
Restrictions. No swimming or wading. No off-road vehicles permitted in campgrounds. Pets must be on leash and physically restricted. There are no RV hookups and dump stations. Campfires restricted to fire pits only. Fireworks are not permitted. Discharging any weapon is prohibited within the entire Lynx Lake Recreational Area. Quiet hours are between 10 PM and 6 AM. Maximum length of stay is 7 days.
Weather. Ideal from April through October with refreshingly cool temperatures. Daily high temperatures in Fahrenheit: April 67, May 76, June 87, July 90, August 87, September 83, and October 72 degrees. See Prescott weather and climate chart for average rainfall, sunrise times and sunset times.
Directions
Take Arizona Highway 69 to Walker Road which is about 5 miles east of Prescott. Drive south on Walker Road for about 3 miles to the campground on the left side of Walker Road.
Latitude : 34.51664559
Longitude : -112.3880009
More Information
Mailing Address
LYNX CAMPGROUND
344 South Cortez Street
Prescott AZ 86303
Prescott National Forest
Bradshaw Ranger District
928-443-8000
Other Prescott Area Campgrounds
In The Pines Around Prescott