Prescott Points of Interest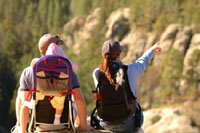 You'll find many things to do in Prescott AZ including many attractions for kids. Visit Whiskey Row that once boasted over 40 saloons in a small area and scope-out over 500 historic homes and buildings some of which are over 100 years old including the Old Courthouse. Camping, hiking, biking, horseback riding and fishing on the several mountain lakes in the area.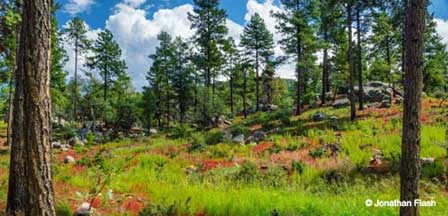 Prescott claims the World's Oldest Rodeo held during its annual Frontier Days. And for more sightseeing, Jerome and Sedona is not too far away. The Out of Africa Wildlife Park is about a 50 mile drive north in the Camp Verde area. Also see Prescott Museums.
Arcosanti - Cordes Junction. Paolo Soleri's urban design laboratory. Architectural tours 10-4, bakery, café, overnight and conference facilities, hiking, Soleri windbells, concert season, resident arts. Open 9-5 daily.
Bucky's Casino. Enjoy non-stop action on Bucky's 300 big-win slots, Live-Action Poker. 24 hours a day, anytime is a great time at Bucky's Casino
Heritage Park Zoological Sanctuary. At the sanctuary, the animals are respectfully displayed in natural habitats intended to educate the public on a variety of topics.
Out Of Africa Wildlife Park - Camp Verde AZ. Arizona's Best Wildlife Theme Park See over 400 animals from all over the world!
Prescott Hiking Trails. There are numerous trails within a short twenty-minute drive from downtown Prescott, Arizona. A sampling of some of the most popular trails.
Whiskey Row. Most of the color and stories of Prescott originated in this one block landmark that still celebrates that fact that it once hosted over 40 saloons.
Lynx Lake. This 55-acre lake quietly sets amidst tall pines in the cool Bradshaw Mountains high country just a few miles southeast of Prescott.
World's Oldest Rodeo. When the bulls, the horses, the clowns come to town...well, let's just say you'll want to see what's kicking up all that dust.
In The Pines Around Prescott