Average Temperatures in Show Low, Arizona
Show Low is located in the White Mountains of Arizona so you can expect average temperatures in the mid to high 80 degrees Fahrenheit during the months of June, July and August. Beginning late September, temperatures will begin to fall signaling the upcoming golden colors of autumn. Average high temperatures in October will be about 71 degrees diminishing fast to average 59 degrees in November.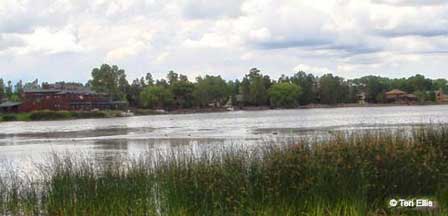 Winter in Show Low, AZ begins in late November through February when daily high temperatures will hover from the high 40s to low 50s. April brings warm, but yet crisp temperature reaching the high 60s and then to th mid to high 70s during May of each year. Spring is a beautiful time in Show Low, Arizona as trees sprout new leaves and wildflowers emerge.
Generally the higher the elevation, the cooler the temperatures. Elevation in Show Low and its surrounding area will vary from 6,350 to about 6,600 feet which is much lower than other White Mountain communities that will reach about 9,500 feet. Conversely the average temperatures per month in Show Low will be warmer versus most other towns in the White Mountains.
Show Low, Arizona Average Low and High Temperatures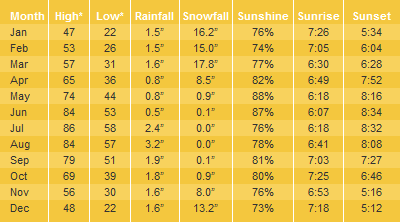 Current Weather in Show Low
Related Show Low Interest
Show Low Arizona
Average Temps-Weather Show Low
Show Low RV Campgrounds
Show Low Bed & Breakfasts
Show Low Map & Directions
Show Low RV Parks
Beautiful White Mountains In Arizona