The best way to discover the inner-wonders of Lake Powell is taking a boat tour or cruise on Lake Powell led by expert boat guides. Whether you only have time for a short one-hour sightseeing tour, a romantic dinner cruise, a full-day adventure or even an overnight camping trip, there is an available tour that fits your style and schedule.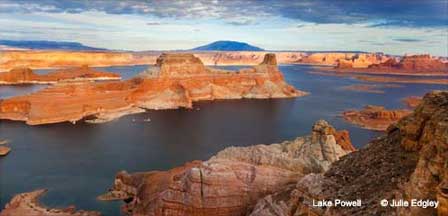 Tours and excursions are not limited to Lake Powell, but the waters of the Colorado River below Glen Canyon Dam with soft-float rafting to Lees Ferry down-river. Take a lake tour to Rainbow Bridge, Navajo Tapestry, and scenic, hidden back canyons. Even to where Antelope Slot Canyon ends at the waters of Lake Powell. Customized tours are also available.
Lake Powell Boat Tour Operators
Arizona Leisure website does not operate tours. It only gives a list of tour options and connections to tour operators that may help you choose the best selections. This list of tour companies are based in Page or the marinas on the Arizona side of Lake Powell. Contact each tour company or its representative for details, rates, schedules, and reservations.
Lake Powell Resort at Wahweap Marina
Tours From Antelope Point Marina
Kayak Tours on Lake Powell
Hidden Canyon Kayak Tours
Third Party Lake Tour List
Colorado River Discovery
Self-Guided Lake Powell Tours
Of course you can rent a boat or houseboat and tour Lake Powell at your own leisure and pace. Both Wahweap Marina and Antelope Point Marina offer boat rentals. They will suggest tour routes and may provide maps defining the major scenic points on the lake.
Related Topics of Interest
About Lake Powell
Page, Arizona
Weather and Temperatures
Map and Directions
Lake Powell Marinas
Map of Lake Powell