Although there are six separate marinas on Lake Powell, three are rather remote, lack most amenities, or located far from community services. Lake Powell is huge. It is 186 miles long with almost 2000 miles of shoreline with over 90 side canyons some of which are over 25 miles long.
There are significant distances between most of the Lake Powell marinas although Wahweap and Antelope Point marinas are are only 12 miles apart. Both are on the Arizona side of Lake Powell and just a few miles from Page, Arizona.
Outside the immediate areas of the largest, most popular marinas, Lake Powell is desolate wilderness located inside the Glen Canyon Recreation Area. It could take weeks to navigate the entire lake and experience its entire pristine, natural beauty.
Unless you are a very experienced boater, it is not wise to venture into the wilderness portions of Lake Powell. Getting immediate assistance in the more primitive areas could be difficult.
Reference Map of Lake Powell with Marina Locations.
Major Marinas On The Arizona Side of Lake Powell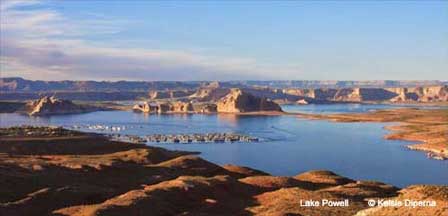 Both Wahweap and Antelope Point are located next to Page, Arizona with a population of about 7,500. The close proximity creates great convenience for tourists, boaters and vacationers with large shopping venues, hotels, bed and breakfasts, restaurants, drug stores, food stores, convenience markets, and even a picturesque golf course.
Both marinas feature full-service convenience including boat rentals, restaurants, lounges, stores, campgrounds, lodging and onsite boat tour providers. Perhaps the most important benefits of using the two Arizona marinas are their relative close proximity to some of Arizona's most popular attractions.
Antelope Canyon
Horseshoe Bend
Glen Canyon Dam Overlook
Lees Ferry
Desert View East Grand Canyon Entrance
Lake Powell Marinas On The Utah Side
Again, marinas on the Utah side of Lake Powell are mostly remote. With the exception of Bull Frog Marina, which features full-service. The other four a quite remote with minimal services. Even Bull Frog is a long land-drive from Glen Canyon Dam and about 95 lake miles from the dam.
Dangling Rope Marina is 40 lake-miles from Glen Canyon Dam and is really just a refueling stop along the way to Rainbow Bridge, There is no land access to Dangling Rope. Hall's Crossing Marina is connected to a ferry crossing extension of Highway 276. Hite Marina is located at the northernmost tip of Lake Powell and is extremely remote.
Of Similar Interest
About Lake Powell
Page Arizona
Average Monthly Weather
National Park Service Marina Descriptions
House Boat and Boat Rentals
Fishing At Lake Powell