Average Temperatures in Pinetop Lakside Arziona
The average Pinetop Lakeside AZ temperatures and weather is basically the same as the temperatures in Show Low, Arizona. The towns are only about 10 miles apart and have the same elevation of about 6,900 feet. Perched in the White Mountains of Arizona, Pinetop Lakeside summer temperatures make it an ideal all year playground for the outdoor enthusiast.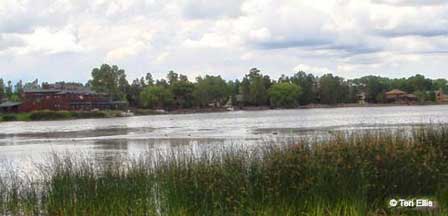 Fresh, crisp pine-scented mountain air. Tranquility and solitude of small town attitude. Four seasons of ideal Pintetop Lakeside weather entices tourists to golf, fish, hike and sail during the spring and summer months. Stroll the trails and enjoy the golden colors of fall. Hit the ski slopes, let the kids snow-sled and even cross-country ski during the snowy winter months.
Also see Show Low Temperatures and Climate
Pinetop Lakeside Average Temperatures By Month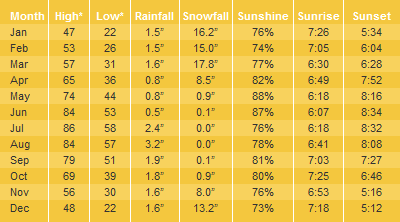 Related Pinetop-Lakeside Interest
Pinetop/Lakeside
Average Temps-Weather Pinetop Lakeside
Pinetop Lakeside Bed & Breakfasts
Pinetop Lakeside Map & Directions
Pinetop Lakeside RV Campgrounds
Pinetop Lakeside RV Parks
Current Temperature in Pinetop Lakeside and Weather Forecast
Beautiful White Mountains In Arizona