Snowbowl Scenic Drive
The majestic San Francisco Peaks are the iconic landmarks of North Flagstaff. Its tallest point is Humphreys Peak which is highest elevation in Arizona at 12,634 feet. It is also home to the Arizona Snowbowl, the most prominent snow-ski area in the state. But it doesn't have to be winter snow season to enjoy the Snowbowl Scenic Drive because the road is open all year.
The fifteen mile drive which begins just north of downtown Flagstaff takes you to the base of Humphreys Peak and then climbs its western slope through thick forests before reaching the mountain's high meadows. The scenic route ends at the 9,500 foot elevation point at the lodge and ski area. Scenic overlooks near the top of the drive provide excellent panoramic views of the volcano field which created this mountain stretching off to the west.
The views along the drive are equally spectacular at any time of the year. Of course during the winter the trees are dusted with snow with deep powder-based ski slopes. During spring and summer, the meadows of wildflowers are alive with color and with the arrival of autumn the green leaves of Aspen trees begin to turn golden. If you have time the Snowbowl features it scenic Skyride during the summer months from where on a clear day one can see the Grand Canyon about 70 miles away. Besides amazing views, there is an abundance of wildlife that roam the area including Arizona elk, mule deer and wild turkey.
Getting There. Drive 7 miles north of Flagstaff on US 180 and then turn east on SnowBowl Road (FR 516). It's 8 miles to the end of the road at the ski area parking lot. The total one way drive is about 15 miles.
Road Conditions. All roads are paved and are plowed in winter but they can still become slippery. After winter storms, chains or four wheel drive may be required. The roads are open all year.
For More Information
Peaks Ranger Station
5075 North Highway 89
Flagstaff, Arizona 86004
(928) 526-0866
(928) 779-1951
Nearest Lodging & Accommodations
Consider Flagstaff Hotels and Motels, Bed and Breakfast Inns, RV Parks or Vacation Home Rentals.
Snowbowl Scenic Drive Map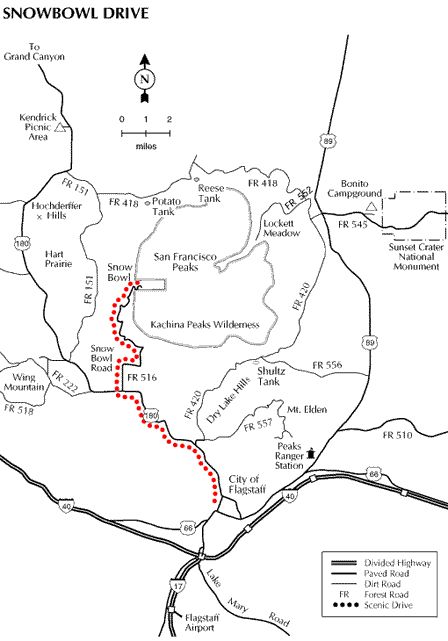 Flagstaff High Country