Wintertime in Flagstaff

Yep, there really is snow in Arizona. When winter arrives and snowfall blankets Flagstaff's San Francisco Peaks, the desert-dwellers from the south head north to ski the slopes, ski cross country through the pines and tube the slippery hills. Crisp winter air with an average annual snowfall of about 110 inches and day time high temperatures of 20 to45 degrees Fahrenheit brings a mountain of winter recreation.
Arizona Snowbowl Ski Resort
Located about 14 miles north of Flagstaff on the San Francisco Peaks, the Snowbowl features four lifts and 32 trails of terrain and a vertical drop of 2,300 feet. You'll enjoy a selection of ski runs for all ages and skill levels with great views of Arizona's tallest mountain range at 12,634 feet covered with thick stands of pine and aspen. The Snowbowl has a lodge at the base of the mountain where you gather up with friends around cozy fireplaces. The ski season generally runs from about mid-December to mid-May depending upon weather and snowfall, so call ahead or visit the Snowbowl's website for up-to-date schedules and information.
Directions To Skiing In Flagstaff
From downtown Flagstaff, turn north on Humphreys Street to Highway 180 and head northwest to Snowbowl Road. The Snowbowl Ski Lift Lodge will be on Highway 180 and proceed on Snowbowl Road toward the peaks to reach the slopes.
Arizona Snow Bowl
Information: (928) 779-1951
Ski Conditions: (928) 779-4577
Ski Lift Lodge (928) 472-3599
Map To The Snowbowl
Map compliments of Arizona Snowbowl
The Snowbowl Scenic Skyride
During the summer months, ride the Snowbowl Skyride to an elevation of 11,500 feet high above the forest below. Enjoy the panoramic views of the entire Flagstaff area. On a clear day you can see glimpses of the Grand Canyon 70 miles away.
The Nordic Center Cross Country Skiing
If you enjoy cross country skiing, the Flagstaff Nordic Center is located just seven miles north of Snowbowl Road on Highway 180. Snow sledding fun is just one mile past the Flagstaff Nordic Center at Crowley Pit. Instruction and equipment rental is available at the Center. Call ahead for seasonal schedules.
Flagstaff Nordic Center
(928) 220-0550
http://www.flagstaffnordiccenter.com
SnowBowl & San Francisco Peaks Gallery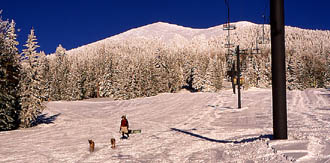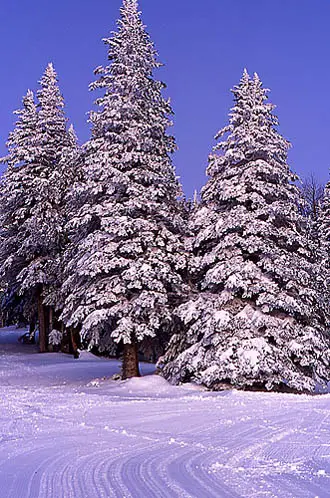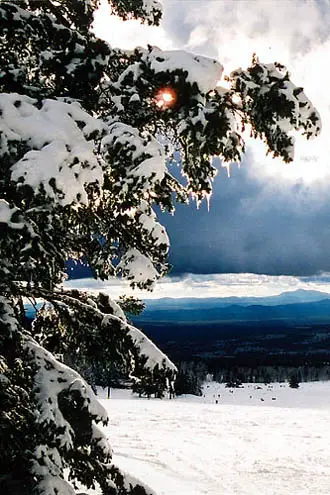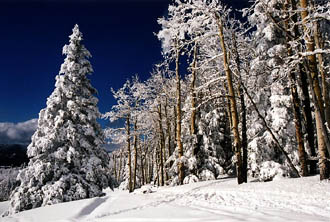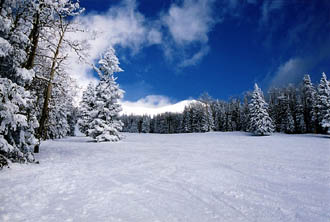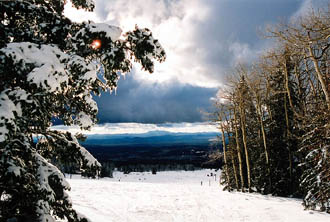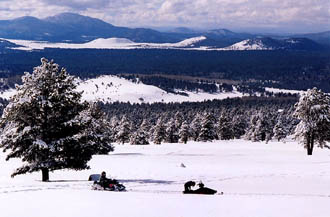 Flagstaff Snowbowl Pictures
Copyright Robert Body
Our appreciation to Robert Body, Professional Scenic Landscape Photographer for permitting our visitors to enjoy the visual feast. His photographs are available for purchase as high quality frameable prints for decor. View his photographic artistry and read about his scenic travel adventures.
Flagstaff High Country