Sedona Bed and Breakfast
Sedona could very well be the "Bed and Breakfast Capital of America". Its unique and contrasting landscape entices vacationers and tourists from all around the world. The majesty of towering red rocks. The lush beauty of Oak Creek Canyon. Shimmering Oak Creek as it meander down the canyon. Mystical and spiritual vortexes. And the aura of past ancient civilizations that left their ruins in secret canyons as gifts to the modern world.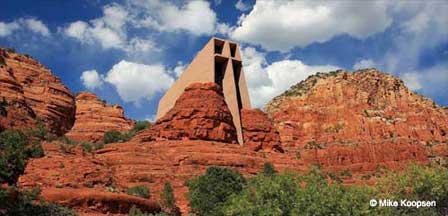 Choose from an almost endless variety of bed and breakfasts in Sedona each uniquely designed to complement your style of comfort, comfort and beauty. Enjoy a romantic getaway in a home away from home. Wake up to the aroma of a custom prepared breakfast and get ready to enjoy the beauty and attractions that Sedona and Northern Arizona has to offer. Hike a trail. Visit a vortex. Experience ancient Indian ruins, Stroll a wine vineyard. Take a Sedona tour. Or do nothing at all.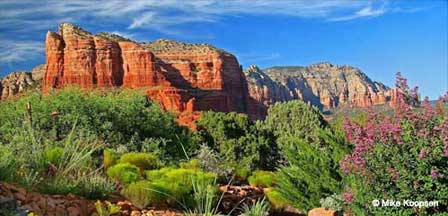 Play a round of golf, Shop unique boutiques. Dine on a patio overlooking some of the most beautiful sights in the world. Drive up Oak Creek Canyon. Even visit the Grand Canyon South Rim one of the world's seven wonders. At the end of an eventful day, return to your chosen bed and breakfast in Sedona or Oak Creek Canyon and indulge. Relax on a private patio and watch an incredible sunset. Have a glass of wine. Jump into the jacuzzi or sit by the fireplace.
Penrose 5 Star Bed and Breakfast
250 Red Butte Drive
Sedona, Arizona 86351
(928) 284-3030
Creekside Inn at Sedona
99 Copper Cliffs Drive
Sedona, AZ 86336
(928) 282-4992
Boots and Saddles Bed and Breakfast
2900 Hopi Drive
Sedona, AZ 86336
(928) 282-1944
Moestly Wood Bed and Breakfast
2085 Upper Red Rock Loop Road
Sedona, Arizona 86336
(928) 204-1461
Alma de Sedona Bed and Breakfast
50 Hozoni Drive
Sedona, AZ 86336
(928) 282-2737
The Lodge at Sedona
125 Kallof Place
Sedona, AZ 86336
(928) 204-1942
View More Bed and Breakfasts in Sedona
Additional Sedona Area Information
Map & Directions Oak Creek Trail
Oak Creek Canyon Map & Directions
Oak Creek Canyon Photos By Koopsen
Oak Creek Canyon Vista Point
Sedona Aerial Photos By Koopsen
Sedona Winter Photos By Koopsen
Verde Canyon Railroad
The Wonder Of Sedona & Oak Creek