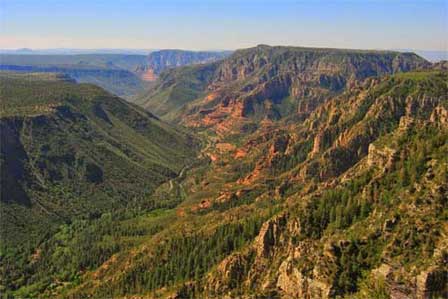 Sycamore Canyon Near Williams, Arizona
No paved roads in Sycamore Canyon. No developed campgrounds. And no motorized vehicles allowed past the entrance, not even bicycles. There is no visitor center. Sycamore Canyon Wilderness may at first seem inhospitable, the adventurous will discover a backcountry paradise.
Wilderness solitude. A true natural habitat, Sycamore Canyon will leave you feeling as though you were the first human to gaze upon its deep gorges, stunning rock formations, rich riparian habitat, swimming holes and even some waterfalls.
About The Sycamore Canyon Wilderness
It is the second largest canyon in Arizona. The Grand Canyon is the largest. Sycamore is a huge 56,000 acres and almost all of it is only accessible by foot or horseback. Backcountry enthusiasts will experience hiking, rock climbing, horseback riding, swimming, fishing and wildlife in one of the country's most stunning yet least visited landscapes.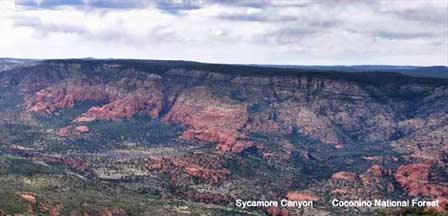 The colorful cliffs, with towering pinnacles, arches, mesas and buttes, will astonish the first time visitor and continue to amaze those who return for even more scenic wonder. Sycamore Canyon provides many outstanding vistas for photographers and artists to capture nature's symphony of color and form. It is as fine an example of Arizona's Red Rocks as the canyon's more famous sister, Oak Creek Canyon to the east.
Hiking Sycamore Canyon
Sycamore Canyon extends from just south of Williams, Arizona down to Clarkdale and Cottonwood, Arizona which is near Sedona, AZ. Visitors can enter Sycamore from the north or south ends of the canyon depending upon a particular preferred trail. Parsons Trail is perhaps the most hiked trail in the canyon and can be accessed just north of Clarkdale, AZ.
There are 11.3 miles of trail within the designated Wilderness Area with most trails rated as moderate with a few strenuous stretches. Elevation at the forested north area of the canyon is 6,800 feet dropping to 4,800 ft at its lowest point at the south end.
Kelsey Winter Trail, Little L.O. Trail, Dorsey Springs Trail, Taylor Cabin Trail, Winter Cabin Trail, Sycamore Rim Trail and Parson's Trail make up most of the Wilderness Area's trail system and have trailheads located off the Forest Service roads that traverse the canyon.
The Sycamore Rim Trail is most enjoyable during the warmer months as it takes visitors around the canyon's upper rim through deep forests alongside several secluded pools. The canyon's solitude makes these pools the perfect place to jump in and cool down during your summer hike.
The Taylor Cabin Trail gives you the remnants of a real cowboy cabin from the American west. The Parson's Trail is one of the most fascinating as it makes its way through a lush desert riparian habitat.
Forest road access to some trailheads can be quite rough in spots. During the winter, heavy snow on the northern edges of the canyon can make some of the roads impassable. Monsoon season can limit accessibility through the forest roads.
Wilderness Area maps, including hiking and access trails are available from the Coconino Forest Peaks Ranger Station in Flagstaff or from the Red Rocks Ranger District office in Sedona.
Wildlife in Sycamore Canyon
Sycamore Canyon is home to some of the most diverse wildlife in the west. Black bears and mountain lions call the area home, as do more than a few smaller creatures that can join you at your campsite. Rattlesnakes like to take cover in the rocks so use caution when grabbing hold or descending through brush.
At night, in the flicker of your dying fire, you may catch a glimpse of the notorious camp robber, the bandit-masked ringtail cat making off with a bit of tomorrow's lunch.
Getting To Sycamore Canyon
You may get to Sycamore Canyon from a number of highways and forest service roads from both the north and south edges of the canyon. Major access points are off Route 66/FR 231, U.S. 89A, and FR's 152, 152D, 152C, 525, 538E, 538G and 538H. See the map below.
Forest roads are rough and often impassable during bad weather and cross undeveloped thick forests. The area is extremely remote, so be prepared with necessary provisions and rely on experienced hiking partners. There are many areas suitable for camping, but camping guideline requires no camping within 200 feet of natural waterways.
Human waste must be buried at least 200 feet from any natural waters. To keep the wilderness pristine for all to enjoy, pack your trash out with you and do not remove discovered artifacts or deface the natural environment.
Sycamore Canyon Map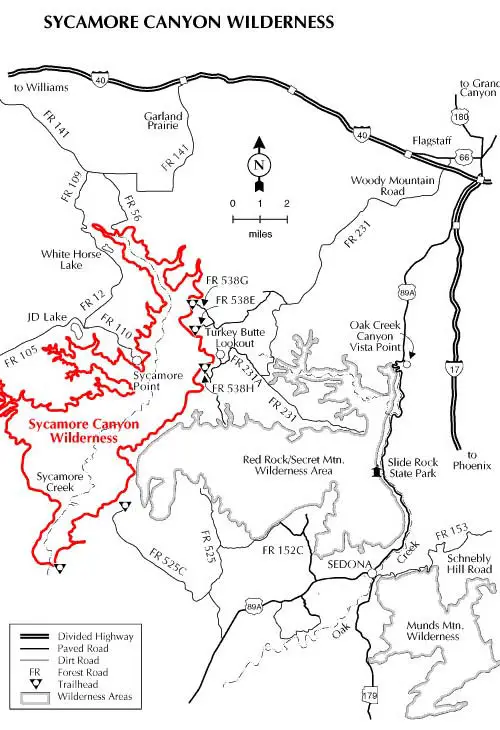 Map compliments of the NPS
For More Information
Coconino National Forest
Red Rock District
8375 State Route 179
Sedona, Arizona 86341
928-203-2900
Flagstaff District
1824 S. Thompson Street
Flagstaff, AZ 86001
928- 527-3600