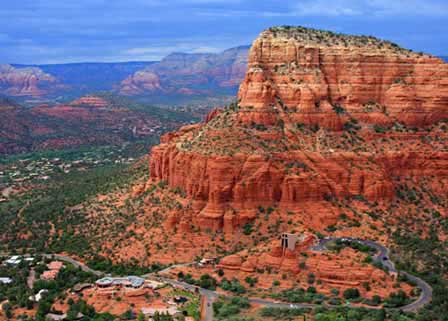 Chapel of the Holy Cross Below Bell Rock. © Mike Koopsen
Rising high above magical views, the Chapel of the Holy Cross is one the most awe-inspiring landmark icons of Sedona, Arizona. It has touched the hearts of all who have visited her since it was built in 1956. It is spiritual and mystical place. Although the Chapel is part of the Roman Catholic Diocese of Phoenix, all faiths are welcome to visit the Chapel and its vast incredible views.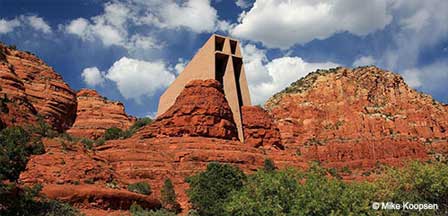 Thanks to Mike Koopsen for these incredible Chapel of The Holy Cross photos. Mike is a Sedona-based fine arts landscape photographer who specializes in Northern Arizona landmark attractions. He captures the beauty of this work of art as it sits below Courthouse Rock. It juts out on a 200 foot red rock with its 90 foot tall cross reaching for the blue skies of Sedona, AZ.
A Revered Sedona Landmark
The Chapel of the Holy Cross is one of Sedona's most revered landmarks. Belonging to the Sedona's Parish of St. John of Vianney as well as the Roman Catholic Diocese of Phoenix, this Sedona treasure was designed by Marguerite Brunswig Staude, a student of the famous architect Frank Lloyd Wright. The large cross appears to rise skyward from the rocks to support the Chapel. The surrounding landscape frames the chapel as a memorable coupling of nature and the achievements of mankind.
The Chapel Experience
Visitors who have experienced the chapel recommend the pilgrimage to all. Considered one of most popular landmarks in Sedona, the chapel receives visitors from all denominations. People come with their prayers and find inspiration in the breathtaking views. The chapel towers two hundred feet commands the serene setting. The interior of the chapel is essentially rustic and unadorned. Simple tapestries and candle displays welcome travelers from all faiths and walks of life to experience the peace it exudes.
When is the Chapel of The Holy Cross Open
The Chapel of the Holy Cross is open every day from 9 AM to 5 PM except Thanksgiving, Christmas Day, Good Friday, and Easter Sunday. The Chapel is wheelchair accessible and there is no admission fee.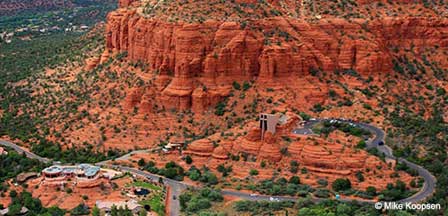 Getting To The Chapel of The Holy Cross
Traveling on Highway 89A, exit to Highway 179 south going toward the Village of Oak Creek. Make a left on Chapel Road. The chapel is located at the end of this stretch. There is a parking lot atop the hill; however, visitors are advised to wear comfortable shoes as the walk from the parking area to the chapel is quite steep.
More Information