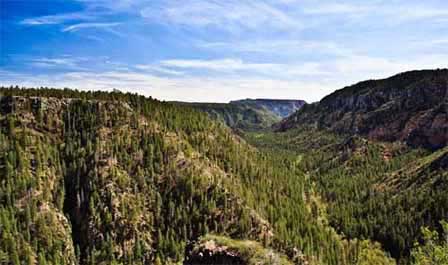 Oak Creek Canyon Vista Point. © Chris Martino
Oak Creek Canyon Vista is the overlook point into Oak Creek Canyon right before descending into the canyon. It can be reached via State Route 89A about 14 miles south of Flagstaff, Arizona. Stop and see Oak Creek Canyon from the top of the rim to get a visual sense of what you are about to enter.
As you begin the descent into Oak Creek Canyon, expect incredible scenes of what many call one of America's most scenic drives. From the Vista Point, you will enter a winding road with some hair-pin switchbacks that drops about 4,500 feet over 14 miles as it makes its way into Sedona, Arizona.
Oak Creek Canyon Vista
Walk along a railed pathway and take photos and shop for gifts at the Vista Visitor's Center. Native American artisan vendors set up displays of authentic made Indian crafts, jewelry, and art along the walkway. It's the perfect place to have a picnic while enjoying the views before beginning the descent into Oak Creek Canyon.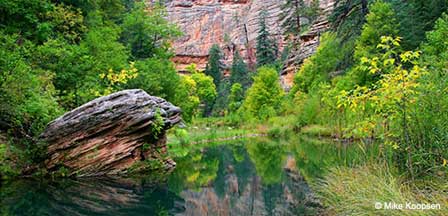 Oak Creek Canyon Vista is open all year, but the Visitor Center is not openfrom December until early April. Drinking water and vault toilets are provided. During the winter, Route 89A is subject to closure during heavy snow and poor weather.
More Information and Directions
From Flagstaff AZ. Drive south on State Route 89A for about 14 miles the the forest to Oak Creek Canyon Vista.
From Sedona AZ. Drive up State Route 89A (Oak Creek Canyon) for about 13 miles to Oak Creek Canyon Vista Overlook.
GPS Location. N35° 1' 45.1554", W-111° 44' 0.9954
Red Rock Ranger District
(928) 203-2900
Map Directions To Oak Creek Canyon Vista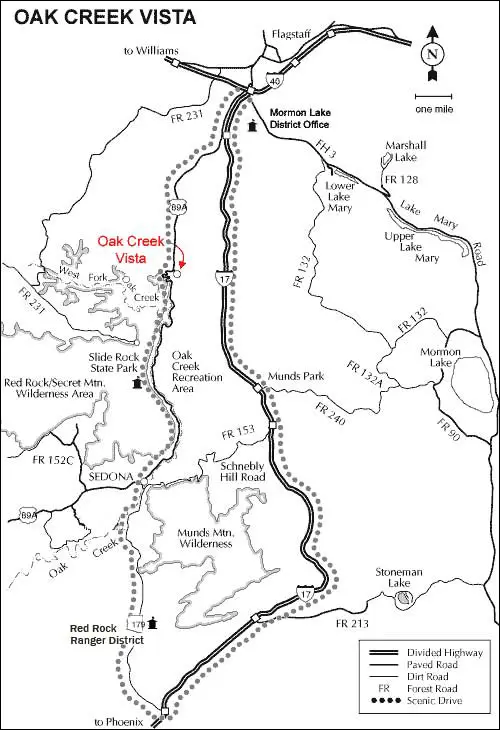 Related Sedona Interest
Sedona Arizona
Map & Directions Oak Creek Trail
Oak Creek Canyon Map & Directions
Oak Creek Canyon Photos By Koopsen
Oak Creek Canyon Vista Point
Sedona Aerial Photos By Koopsen
Sedona Winter Photos By Koopsen
Verde Canyon Railroad