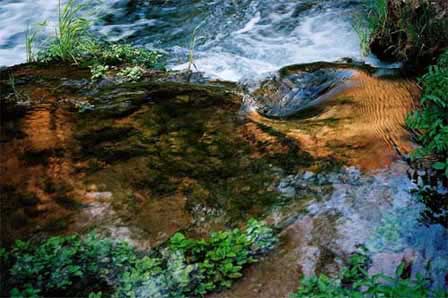 Shimmering Waters of Oak Creek
West Fork Trail at Oak Creek Canyon is arguably the most popular hiking trail in Arizona and the most scenic. It is located just north of Sedona, Arizona in Oak Creek Canyon. The perfect hiking venue during all seasons as it follows the shimmering waters of Oak Creek.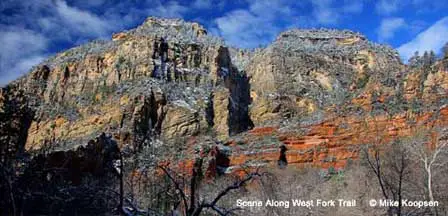 Hiking during the summer under the canopies of a lushly green forest under towering crimson red canyon walls. The forest turns golden in autumn as the pastel leaves reflect from the crystal clear waters. Dress appropriately and hiking the trail can become uniquely beautiful as icicles hang from the cliffs. Spring restores to ideal conditions as trees begin to bud and wildflower start to peak along the trail.
The first part of trail at 3 miles is an easy stroll that crosses the creek at several points. That portion of the West Fork Trail is well marked. For most hikers, that 6 mile round trip is perfect for a leisurely 3-4 hour hike. Many will continue for another 14 miles into the Secret Mountain Wilderness that involves a lot of wading and boulder-hopping. Sometimes swimming is required.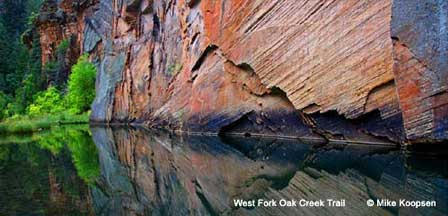 Regardless of how long you desire to hike the trail, come early when the trail is least crowded for a more tranquil hike in solitude. Weekdays are always best and better yet during the off-season. Please take special care to protect the natural beauty of West Fork. Carryout what you brought-in.
West Fork Oak Creek Trail Location Map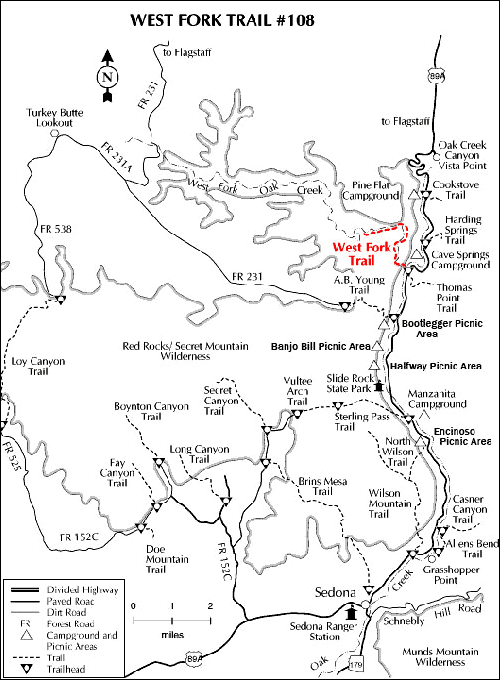 Oak Creek Trail Video
Related Reading
West Fork Oak Creek Trail Map & Directions
Oak Creek Canyon Photos By Mike Koopsen
Other Oak Creek Canyon Hiking Trails
West Fork Detail: Coconino National Forest
Red Rock Ranger District
P.O. Box 20429
8375 State Route 179
Sedona, AZ 86341
(928) 203-2900
Always call ahead for possible closures.