Benny Creek RV Campground in Greer
Benny Creek Tent and RV Campground is located about 2,5 miles north of Greer, Arizona next to the Apache-Sitgreaves National Forests along State Highway 363 near Greer Lakes and the Little Colorado River.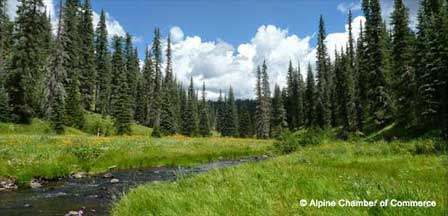 Elevation is 8,250 feet, so expect cool to cold night temperatures. Gas, restaurants, groceries, and rentals are available in Greer. Be prepared for heavy rain through July and August and heavy snow during the winter months. Located in the magnificent Arizona White Mountains.
Related Greer Interest
Benny Creek RV Campground
Greer Weather Info
Greer RV Campgrounds
Greer RV Parks
Greer Bed & Breakfasts
Greer No Longer A Secret
How To Get To Greer Arizona
Rolf Hoyer RV Campground
Winn RV Campground
Campground Amenities and Information
Concessionaire. On site during the season.
Fees. Nominal.
Season. Mid-May through September.
Camping. Tent camping and RV camping.
Campsites. 24 units
RVs and Trailer. Limited to 24 feet maximum.
Utility Hookups. None.
Dump Station. Nearby at Hoyer RV Campground
Reservations. Accepted at triple and quad group sites only.
Amenities. Pads, grills, picnic tables, toilets, drinking water.
Campground Map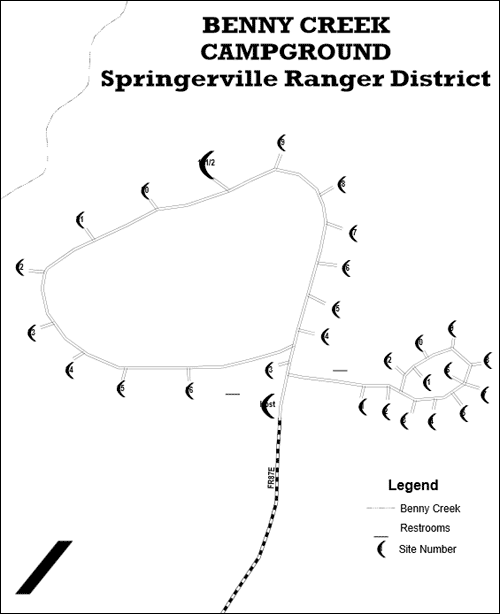 Directions From Greer AZ. Benny Creek RV Campground is located 2.5 miles north of town State Highway 373 just off the road.
More Campground Information
Springerville Ranger District
928 333-6200
Greer Weather and Temperatures
Greer Map and Directions
Greer Arizona Cabin Rentals
Greer RV Parks
Beautiful White Mountains In Arizona