Greer Arizona RV Parks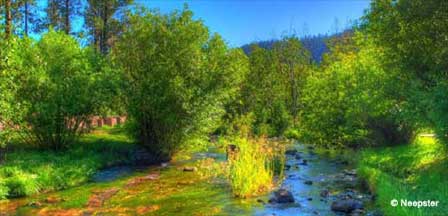 Located in the Arizona White Mountains, Greer, Arizona has an elevation of about 8,500 feet. As a four-season getaway destination, Greer attracts vacationers year-round. The following RV Parks are ideal for that travel in RVs. Greer AZ is situated next to the Apache-Sitgreaves National Forests and the Little Colorado River.
The Greer area abounds with outdoor recreation including cross-country skiing, horseback riding, biking, hunting and fishing. Because of its elevation, Greer's temperatures are cool averaging about 77 degrees during the summer months. RV enthusiasts will be pleased that there are several RV options in Greer. If you do not own an RV or Motor Home, consider renting one.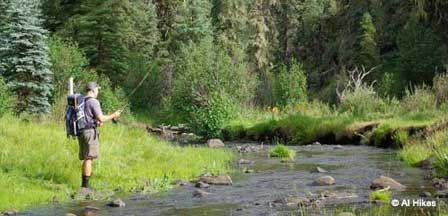 Checkout RV Rentals in Arizona.
RV Parks in Greer AZ
Mountain Aire RV Park
P.O. Box 80
Greer, Arizona 85927
(928) 735-7524
Open May to October. Our RV spaces are generous and easily accommodate units from 30' to 34' feet. Guests frequently enjoy the opportunity to play cards or a game of pool in our recreation hall. Picnic on our grounds or walk to blue-ribbon trout fishing on the Little Colorado River. Gentle summer breezes, cool temperatures, pristine forests, the crystal waters of the Little Colorado River and crisp pure air invite you to enjoy Greer, AZ.
Greer Glen Lodge & RV Park
142 Main Street
Greer, Arizona 86927
(520) 343-4313
Groups traveling together may have different ideas on what kind of accommodations to choose when visiting the Greer area. The Greer Glen Lodge is a facility with Celtic style that offers both RV camping and cabins. The RV campground has six sites with electricity, water and waste hookups. Greer Glen offers nightly as well as weekly rates.
Heaslett's Circle B Cabins & RV Park
(928) 735-7290
Related Greer Interest
Benny Creek RV Campground
Greer Weather Info
Greer RV Campgrounds
Greer RV Parks
Greer Bed & Breakfasts
Greer No Longer A Secret
How To Get To Greer Arizona
Rolf Hoyer RV Campground
Winn RV Campground
Beautiful White Mountains In Arizona