Winn RV Campground Near Greer AZ
Many agree that the Winn RV Campground is the best campground in the White Mountains. It accommodates RVs and trailers up to 45 feet which is larger than is permitted at Rolfe C. Hoyer or Benny Creek RV campgrounds. Winn Campground is just over 2 miles from Lee Valley Reservoir which is stocked with the rare Apache Trout. In fact it is one of the few places in the world where Apache Trout exist.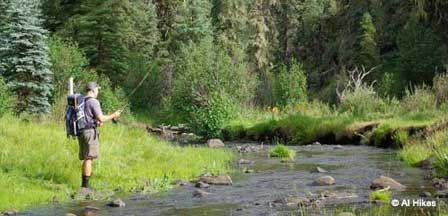 At an elevation of 9,300 feet, it is one of the highest campgrounds in the Arizona White Mountains. You can expect an abundance of free-roaming wildlife including elk and deer that graze in the meadows and drink from the East and West Forks of the Little Colorado River. Serenity, solitude, and tranquility amidst thick mountain forests are the main attractions of Winn RV Campground. Pristine is the magical word.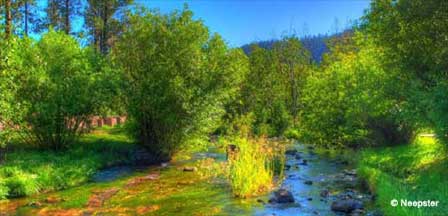 The Winn RV Campground is located about a 25 mile drive southwest of Greer, Arizona on Forest Road 554 off State Road 273. At its high elevation, temperatures will be cooler versus campgrounds nearer to Greer, AZ. Be prepared for heavy rains during the summer months.
Campground Amenities and Information
Concessionaire. On site during the season.
Fees. Nominal.
Best Season. Mid-May through September.
Camping. Tent camping and RV camping.
Campsites. 63 units with 2 group sites.
RV and Trailer. Limited to 45 feet maximum.
Utility Hookups. None.
Reservations. Accepted.
Amenities. Grills, fire rings, picnic tables, toilets, drinking water.
Winn Campground Map
Directions From Springerville. Take State Highway 261 west for two miles until you reach the intersection on State Highway 261. Follow this south for ten miles. Turn off on to State Road 273 on the right. You'll find the campground on Forest Road 554, just off State Road 273, between Sheeps Crossing and the Phelps Trailhead.
More Campground Information
Springerville Ranger District
(928) 333-6200
Related Greer Interest
Benny Creek RV Campground
Greer Weather Info
Greer RV Campgrounds
Greer RV Parks
Greer Bed & Breakfasts
Greer No Longer A Secret
How To Get To Greer Arizona
Rolf Hoyer RV Campground
Winn RV Campground
Beautiful White Mountains In Arizona