Phoenix Japanese Friendship Garden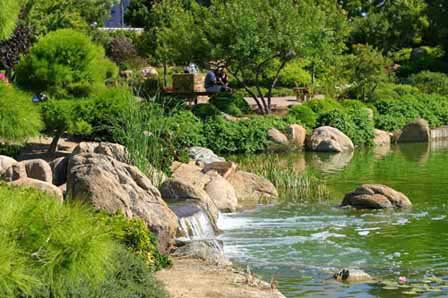 Japanese Friendship Garden. © Dyanna Hyde
The serenity of a tranquil Japanese tea garden lush with Asian plants and teeming with Koi can be your breathtaking experience on your next visit to.Phoenix, Arizona! Yes, Phoenix, that desert town, is home to a marvelous Japanese tea garden. With the help of Japanese designers and gardeners, Phoenix began its garden vision in 1987 to express the friendship between the U.S. and Japan, but more specifically, between the people of Phoenix and its sister city, Himeji, Japan. The result is a stunning wonderland of eastern botanicals in a setting that exudes peace and friendship.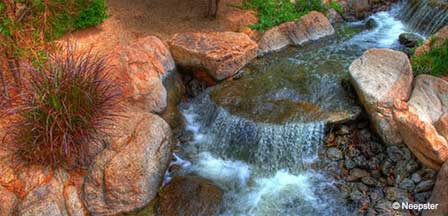 About the Friendship Garden
The garden's name, "Ro Ho En", is bridge between these sister cities in itself. Ro means heron, the bird symbol of Himeji. Ho is the word for the phoenix bird. En is the word for garden. This elegant garden situated on 3 and a half acres is truly a paired vision between two wonderful cultures.
The garden features more than fifty types of plants. These species are poised to withstand the intense heat and dry weather of Phoenix. The garden also boasts more than 1,500 tons of handpicked rock taken from Arizona quarries. The rock was used to form the waterfall as well as line various paths and stream beds. The rock also lines the lake shore, a lovely compliment to the plants of the garden.
Japanese designers and gardeners visited the site upwards of sixty times to incorporate their vision and assist the Phoenix team with the garden's completion. 3.8 million dollars in bond funds and more than one million dollars in private donations was needed to complete this inspiring project that gives such pleasure to the people of Phoenix.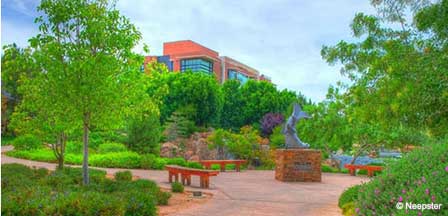 Garden Plants
Two species of bamboo add plenty of Asian atmosphere to this setting, but there are many other plants that generate an atmosphere of the Orient. Plant and gardening enthusiasts can expect to see such beauties as white rain lily, silk oak, sea green juniper, Japanese aucuba, mondo grass, hardy water lilies, and many more. Unlike many western gardens, this garden reflects an artistic rendering of Japanese garden principles. A plethora of green foliage plants is used to create a soothing air which is then highlighted by carefully placed blooms, rocks, or eastern garden props.
Japanese Tea Ceremony
Because no tea garden is truly complete without celebrating the ancient art of Chanoyu (tea ceremony), Ro Ho En offers this spellbinding ritual to guests on the second Saturday of each month. Guests can participate in this ancient tradition held in the garden's tea house. Tea and sweets are coupled in this Japanese aesthetic that dates back to the eleventh century. Participants must register in advance because reservations
Directions To The Garden
The Japanese Friendship Garden is located at 1125 North 3rd Avenue in Phoenix. There is a parking garage at this location for convenience. Many people begin or end their day with a visit to the garden to experience its peaceful beauty. It is the perfect place to stroll or sit and meditate. Visitors to Phoenix will be enchanted by this shared vision of the two sister cities. The garden is open everyday except Monday from 10 AM to 3 PM. There is also a unique gift shop situated on the grounds.
More Information
Japanese Friendship Garden
(602) 256-3204
Related Phoenix Interest
Phoenix Arizona
Camelback Mountain
Desert Botanical Garden
Greater Phoenix Map
Greater Phoenix Things To Do
Japanese Friendship Garden
Mystery Castle
Hiking Papago Park
Phoenix Area Attractions
Phoenix Area Museums
Phoenix Arts & Theatre
Phoenix Bed & Breakfasts
Phoenix Boat Rentals
Phoenix Boat Tours
Phoenix Dude Ranches
Phoenix Events & Festivals
Phoenix Fishing Guides
Phoenix Grand Canyon Tours
Phoenix Horseback Riding
Phoenix Restaurants
Phoenix To South Rim
Phoenix Weather Info
Phoenix Zoo
Piestewa Peak Hiking
Rawhide Western Town
Roosevelt Lake Map & Directions
South Mountain Park
Metro Phoenix