Exploring Arizona's Mystery Castle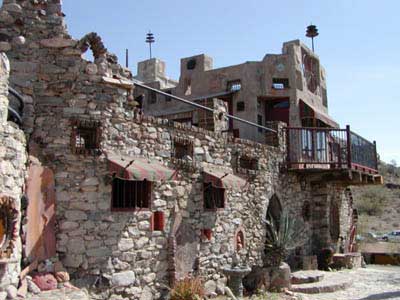 It may be that every house has its fair share of stories, but Mystery Castle's is famous. A Phoenix Point of Pride and an Arizona landmark, Mystery Castle is an architectural must-see on any trek through the Valley of the Sun. A dream house of sorts, the castle was built over a period of fifteen years by a man who wanted to create a caste for his daughter. In 1930 Boyce Luther Gulley contracted tuberculosis in Seattle and, consequently, decided to leave his wife and small daughter so they would not catch the deadly disease. Upon leaving, he decided to build the castle for the little girl he had abandoned and spent the next fifteen years fulfilling this dream.
The Makings of A Castle
Although stones play a role in the building of this structure, the castle also boasts some rather odd construction materials. Adobe, cement, mortar, calcium, and even goat milk were used to build this most unusual dwelling. Visitors will also see auto parts and rail tracks worked into the design. There was a dump near the home's site and Gulley recycled many unusual materials into the construction of his dream house.
The Builder and the Little Girl
Today, most people refer to Gulley as an artist. Although he had two years of architectural training, his building is unlike any other. His inspirational use of materials surprises all who visit the castle. During the construction of the house, Gulley was actually able to recover from tuberculosis. He kept building and adding onto the home such elements as a dungeon, cemetery, and chapel. Gulley did not die from the tuberculosis as he thought he would, but instead, succumbed to cancer when his daughter, Mary Lou was just fifteen years old. Gulley left the castle to her and she still lives there providing some guidance for tours when she's feeling up to it.
The Castle
Visitors marvel at Mystery Castle's ingenuity. The tower, parapets, and turrets truly give this structure a castle-like appearance. A cantina, patios, and even a wishing well add to this home's unique charm. The castle encompasses 8,000 square feet. It boasts thirteen fireplaces, eighteen distinct rooms, and a myriad of interesting features. A wide variety of southwest antiques also round out the interesting decorative style of the castle. Also known as the "castle that love built," this Arizona landmark tells a marvelous story that continues to inspire all those who visit. Mary Lou, Gulley's daughter, did not see her dream home until 1945; the construction and her father's whereabouts had remained a secret up until that point.
Directions To The Mystery Castle
Located south of Baseline Road on 7th Street in Phoenix on the slopes of South Mountain, there are several ways to get there depending upon your originating point in the Greater Phoenix area. Get to Baseline Road turn south on 7th Street for about a mile and a half. Then turn left on Mineral Road and proceed to the castle.
Mystery Castle
800 East Mineral Road
Phoenix, Arizona
Related Phoenix Interest
Phoenix Arizona
Camelback Mountain
Desert Botanical Garden
Greater Phoenix Map
Greater Phoenix Things To Do
Japanese Friendship Garden
Mystery Castle
Hiking Papago Park
Phoenix Area Attractions
Phoenix Area Museums
Phoenix Arts & Theatre
Phoenix Bed & Breakfasts
Phoenix Boat Rentals
Phoenix Boat Tours
Phoenix Dude Ranches
Phoenix Events & Festivals
Phoenix Fishing Guides
Phoenix Grand Canyon Tours
Phoenix Horseback Riding
Phoenix Restaurants
Phoenix To South Rim
Phoenix Weather Info
Phoenix Zoo
Piestewa Peak Hiking
Rawhide Western Town
Roosevelt Lake Map & Directions
South Mountain Park
Metro Phoenix