Phoenix Desert Botanical Garden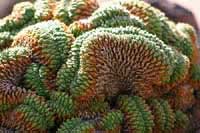 One hundred and forty acres of beautiful flora comprise the wonderful exhibits of the Desert Botanical Garden located in Phoenix near Scottsdale and Tempe AZ. Set within the red rock buttes of Papago Park, the garden's location is a breathtaking scene filled with one of the best collections of desert plants anywhere on earth. Visitors to the Valley of the Sun will not want to miss a chance to witness this rare landscape that is internationally acclaimed.
About Desert Botanical Garden
Although there are a myriad of plant species (more than twenty thousand) contained on the grounds, the garden is home to 139 rare or endangered plants from all over the world. As a testament to its excellence, the Desert Botanical Garden has been accredited by the American Association of Museums; it is only one of forty-four botanical gardens to receive this honor. More than 300,000 visitors come to the garden each year to experience the living wonders that bloom and grow in this desert landscape.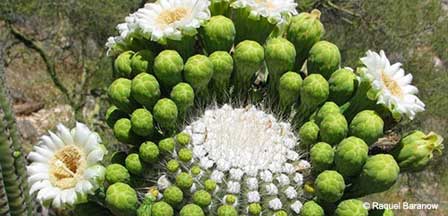 Travelers come from near and far to catch a glimpse of this renowned garden that was founded in 1939. But the garden is also essential for researchers studying horticulture. The botanical garden is an impeccably maintained showplace that also provides detailed records of its collected plants. Whether visiting for academic purposes or coming to enjoy the phenomenal scenery, the Desert Botanical Garden is a must-see destination for anyone enchanted by Arizona's desert beauty. Not surprising, the garden has also been listed as a Phoenix Point of Pride.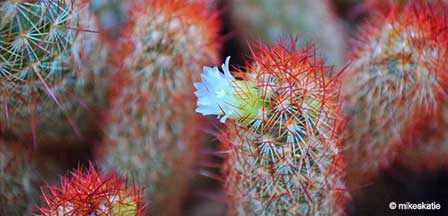 Garden Highlights
Desert Botanical Garden has an extraordinary collection of cacti. The garden is home to more than 1,350 unique taxa. The cactus collection is particularly well known for the following cacti: Opuntia, Echinocereus, South American Cacti, and Agavaceae. It's collection of old world succulents is also considered outstanding in the botanical world. Additionally, the garden maintains a frozen collection of rare plants by harboring their seeds and pollen. For this reason, they have made a name for themselves in the conservation field of endangered and threatened plant species.
The Earle Herbarium and Max Richter Memorial Library
While these features of the garden are used extensively by scientists and botanical researchers, they must be noted as indispensable features of the garden for their vast stores of information about desert flora. The herbarium maintains and stores preserved plant material for study. The library is home to more than five thousand titles on desert plants. The library's collection of botanical drawings is one of the best in the country and should not be missed.
Other Garden Attractions
Desert Botanical Garden has a significant education component to its operation and offers training through its Landscape School. Visitors of all ages can expect to find educational opportunities when they visit the garden.
Visitors will also want to check out the garden's Patio Caf�, Garden Gift Shop, and Garden Plant Shop. With its many features and attractions, Desert Botanical Garden is a pleasant excursion for vacationers and plant lovers alike. Seasonal and special events continually take place at the garden including unique exhibitions, guided tours, concerts, and flower festivals.
Facility rentals are available for social and business events. Choose from open air pavilions, scenic courtyards and historic settings.
Directions To The Garden
The Desert Botanical Garden is located in Phoenix, Arizona, near the cities of Scottsdale and Tempe, on 145 acres in the midst of the red rock buttes of Papago Park.
More Information
Desert Botanical Garden Website
1201 North Galvin Parkway
Phoenix, Arizona 85008
480 941-1225.
Desert Botanical Garden Map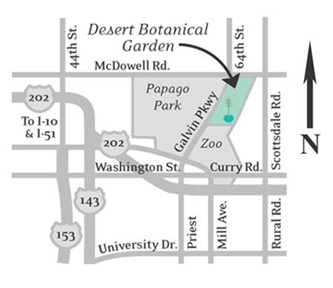 Related Phoenix Interest
Phoenix Arizona
Camelback Mountain
Desert Botanical Garden
Greater Phoenix Map
Greater Phoenix Things To Do
Japanese Friendship Garden
Mystery Castle
Hiking Papago Park
Phoenix Area Attractions
Phoenix Area Museums
Phoenix Arts & Theatre
Phoenix Bed & Breakfasts
Phoenix Boat Rentals
Phoenix Boat Tours
Phoenix Dude Ranches
Phoenix Events & Festivals
Phoenix Fishing Guides
Phoenix Grand Canyon Tours
Phoenix Horseback Riding
Phoenix Restaurants
Phoenix To South Rim
Phoenix Weather Info
Phoenix Zoo
Piestewa Peak Hiking
Rawhide Western Town
Roosevelt Lake Map & Directions
South Mountain Park
Metro Phoenix