Map and Directions To Roosevelt Lake Arizona
There are multiple ways to get to Roosevelt Lake in the Tonto National Forest depending upon departure point and type of preferred scenery along the way.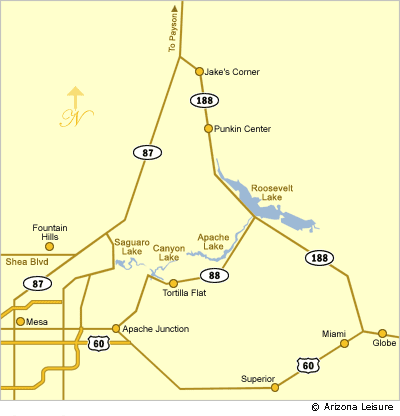 Apache Trail. This is the absolute most scenic route. However, although it is the shortest distance at about 45 miles, it is not the quickest route. Much of the route is along narrow dirt road with tight hair-pin turns. If you're going to pull a boat, the other routes may be a better choice. If you are out for a day of sightseeing, this route would feature spectacular views, particularly during spring when the desert is in bloom.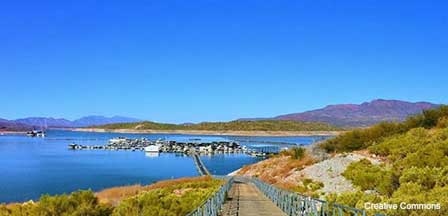 Take US 60 Freeway East from Phoenix. Proceed through Apache Junction and turn left on State Route 88 (paved). You will pass Canyon Lake reaching Tortilla Flat. Paved road will turn to dirt shortly thereafter. From there it will be very narrow, winding road with sheer cliffs. You will pass Apache Lake on the way to Roosevelt Lake. If you have a fear of heights, don't go this way.
From West, Central, East Phoenix and Scottsdale. This is the recommended way and very scenic. Take Highway 87 (Beeline Highway) North to Highway 188. Then take 188 South through Jake's Corner and Punkin Center to Lake Roosevelt. Total distance ranges from about 80 to 120 miles depending on origination point. The farther east you are in the Phoenix area, the shorter the distance.
From Far East in the Valley. This includes Apache Junction and Queen Creek areas. Take US 60 out of Apache Junction. Past Miami, Arizona and before reaching Globe, Arizona, turn left (North) on Highway 188 to Roosevelt Lake.The stacks of granite boulders on the way to the lake are an awesome sight. Total distance to the lake is about 80 miles. All paved.
Lodging Accommodations. If you plan on staying overnight, the best options are either Payson or Globe. Payson (55 miles) is at the center of pine forests. Globe (30 miles) is an old mining town. Make discounted reservation in either Globe or Payson Hotels and Motels.
Tonto National Forest
Tonto Basin Ranger District
(928) 467-3200
(928) 467-2245 (Marina)
(602) 236-5929 (Lake Level Information)
Related Phoenix Interest
Phoenix Arizona
Camelback Mountain
Desert Botanical Garden
Greater Phoenix Map
Greater Phoenix Things To Do
Japanese Friendship Garden
Mystery Castle
Hiking Papago Park
Phoenix Area Attractions
Phoenix Area Museums
Phoenix Arts & Theatre
Phoenix Bed & Breakfasts
Phoenix Boat Rentals
Phoenix Boat Tours
Phoenix Dude Ranches
Phoenix Events & Festivals
Phoenix Fishing Guides
Phoenix Grand Canyon Tours
Phoenix Horseback Riding
Phoenix Restaurants
Phoenix To South Rim
Phoenix Weather Info
Phoenix Zoo
Piestewa Peak Hiking
Rawhide Western Town
Roosevelt Lake Map & Directions
South Mountain Park