Jerome, Clarkdale, Cottonwood, and Sedona are like a set of four sisters yet so different in appearance and personality. Although located in close proximity, each town has a unique beauty that is all its own. Staying at a bed and breakfast at any of those places puts you in the midst of some of the most popular attractions in Arizona.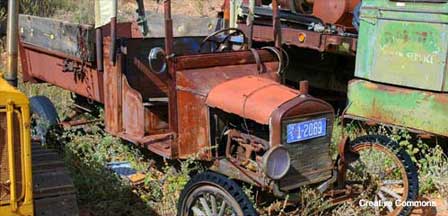 Choosing a particular bed and breakfast depends upon your own distinct preferences and style. Jerome and Clarkdale are considered more rustic. Cottonwood is romantically tranquil. Many tourists choose nice bed and breakfasts in those towns as their home base because they are more budget-friendly versus the bed and breakfasts in Sedona, AZ which is the tourist hotspot in the area.
Founded in 1876, Jerome, AZ was called "the wickedest town in the west". It sets high on Cleopatra Hill overlooking the Verde Valley. Today it is a haven for artisans, craftspeople, photographers, and writers. Businesses and bed and breakfasts occupy some of the historic buildings from its old west period.
In 1874 Cottonwood, AZ was a small military outpost stationed at a small adobe house. It was given its name from a circle of 16 cottonwood trees growing along the Verde River. Today is a laid-back community with about 11,000 residents with more restaurants and shopping venues than does Jerome or Clarkdale.
The Verde River flows through Clarkdale, AZ as does Bitter Creek. It was founded in 1912 and is located at the entrance to Verde Canyon, a very scenic wilderness with high canyon walls. The Verde Canyon Railroad Station is located in Clarkdale and features scenic train rides into Verde Canyon.
Jerome, Cottonwood and Clarkdale are all located within a radius of less than 10 miles. Sedona and Oak Creek Canyon are about a 22-mile drive.
All three towns are within short driving distance of many attractions in the Verde Valley area. The Grand Canyon South Rim makes a nice day trip.
The Surgeon's House
100 Hill Street
Jerome, AZ 86331
(928) 639-1452
Hillside House Bed and Breakfast
687 Main Street
Jerome, AZ 86331
(928) 821-2412
Ghost City Inn Bed and Breakfast
541 Main Street
Jerome, Arizona 86331
(928) 634-4678
Lights of Jerome
1126 Valley View Road
Clarkdale, Arizona
(928) 300-1765
Flying Eagle Bed and Breakfast
2700 Windmill Lane
Clarkdale, Arizona
(928) 301-3761
Desert Rose Bed and Breakfast
4190 East Bridal Path Road
Cottonwood, Arizona 86326
(928) 646-0236
Verde Valley Map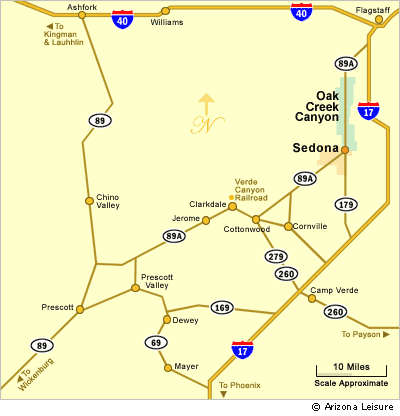 Related Jerome Interest
Jerome Arizona
Article About Jerome AZ
Jerome Bed & Breakfasts
Jerome Photos
Jerome Weather Info
Nearby Attractions and Suggested Reading
Jerome Arizona
Sedona Arizona
Oak Creek Canyon
Montezuma Castle
Montezuma Well
Verde Canyon Railroad
Benefits of a Bed and Breakfast