A bed and breakfast is like a home away from home versus the impersonal aspects of a crowded hotel. At a bed and breakfast guests always get a private bedroom that is uniquely decorated with the look and feel of what you would expect back home. Plus you have access to a living room and often a private patio and jacuzzi.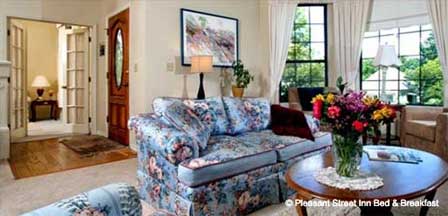 Of course a bed and breakfast in Arizona is slightly more expensive than the typical hotel room, but guests get so much more added-value for the money. Sure, you can get a full-blown suite at a hotel, but that could really break the vacation bank. The following highlights the major advantages of staying at a local bed and breakfast.
Less crowded and tranquil. Imagine. No crowds. Tranquility and solitude. Most bed and breakfasts only have 3-10 rooms. More exclusive with fewer guests. B &B's typically cater to couples without children. No congested parking lots. If you desire a quiet weekend, a bed and breakfast is ideal.
Personal touches. Bed and breakfast inns are typically owned and operated by your hosts. Ordinary folks that take great pride in ownership with a firm commitment to the enjoyment of their guests. They greet you at the front door and immediately make you feel welcome. It's almost like having your own concierge. Their knowledge of local attractions will always point you in the right direction.
More than just a room. Hosts are always there to help you indulge with a pleasurable vacation. Expect a custom-prepared breakfast, that often comes with room service at no additional charge. Perhaps breakfast may be served on a private patio surrounded by colorful gardens or sometimes even enjoy staying near a lake or stream with astounding views.
Stylistically different. Often, bed and breakfasts are refurbished historical homes with a refreshing aura of times when things were more peaceful and laid-back. Or unique architectural design representative of a specific style. A log cabin deep into the forest. A Spanish hacienda in a desert setting. An elegance of European flavor. Or a ranch style with equine facilities. Or maybe a mountain retreat.
Closer to attractions. Unlike most hotels that cater to the business guest, bed and breakfasts are more likely to be found near tourist attractions since they are located in residential areas or more tranquil rural settings. Often, the environments surrounding a bed and breakfast are conducive to great photographic scenery versus what typically surrounds hotels.
Arizona Bed and Breakfast Inns
Bed and Breakfasts in Flagstaff, AZ
Bed and Breakfasts Near Jerome, Arizona
Lake Havasu City Bed and Breakfasts
Bed and Breakfasts in Page-Lake Powell AZ
Payson AZ Bed and Breakfasts
Prescott AZ Bed and Breakfasts
Bed and Breakfasts in Sedona, Arizona
Bed and Breakfasts in Tucson, AZ
Bed and Breakfasts in The White Mountains