Snow Skiing In Arizona
Mention Arizona and most people who have never been here before conjure up images of hot arid desert and cactus. But, Arizona also has forested mountain peaks and deep ski bases topped with powdered snow perfect for snow-skiing during the winter months in the higher elevation areas. All Arizona ski areas feature slopes for all skill levels including beginners, young children and advanced skiers.
Arizona Snowbowl in Flagstaff
Considered by many to be the premier Arizona ski resort, Snowbowl is just fifteen miles from Flagstaff in the San Francisco Peaks. With five lifts serving 32 runs ranging from easy to difficult, Snowbowl has a base elevation of 9,200 feet with the summit soaring to over 11,000 feet above the lush valley below. One impressive trail boasts a 2,300 foot vertical drop and the entire Snowbowl mountain covers 777 skiable acres, making the Arizona Snowbowl one of the largest and most challenging ski areas in the West.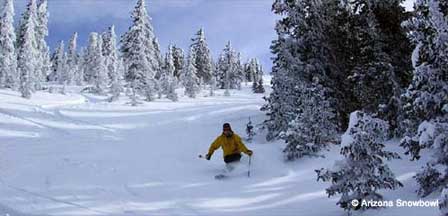 Open to both skiers and snowboarders, Snowbowl also boasts a Terrain Park with rails and spines that sharpen the skills of even the most expert boarders. Two mountain day lodges nearby are open with restaurants and lounges for that midday break, and the Snowbowl has a premier equipment rental shop and ski school with instructors for every level. Families will appreciate the special instruction programs for children, while even the best skiers can drop in for a quick tune-up on their techniques.
More information about the Arizona Snowbowl.
Sunrise Ski Area Near Pinetop Lakeside
Located in Arizona's White Mountains about 200 miles northeast of Phoenix, Sunrise Ski area is state's premier, full-service winter resort. Actually three mountains in one, Sunrise Park Resort offers 65 runs of varying terrain, promising a great ski experience for everyone. Families with children will enjoy the Resort's "ski-wee" area while world class downhill racers can access multiple runs each day on the Sunrise Express High Speed Quadlift. Snowboarders can find implanted rails and a snow half pipe in the TerrainPark and the whole family will enjoy sliding down the mountain inner-tube style. Afterwards, cap off your day in the snow by taking an exciting sleigh ride through the woods or enjoying the Resort's indoor swimming pool and spa or lounging by the fireplace or in one of the hotel's 100 relaxing rooms overlooking the spectacular mountain landscape.
Weekday rates range from $69 for a standard room up to $195 for a deluxe Master Suite including in room wet bar and 2 VIP lift tickets that allow you to skip to the head of the line. Weekend rates run slightly higher but offer the same great service and comfortable rooms. Ski and Stay Packages, which include lodging and lift tickets, are offered to both weekday and weekend skiers. Note that rates are subject to change. For other accommodations, see Pinetop Lakeside Hotels and Show Low Hotels as well as White Mountains Bed and Breakfast Inns and White Mountains Cabins and Lodges.
Found just a few miles east of Show Low and Pinetop Lakeside on the White Mountain Apache Reservation, Sunrise Ski Area is open seven days a week once the ski season begins through the end of snow season.
More about Sunrise Park Resort.
Mt. Lemmon Ski Valley North of Tucson
Home to the southernmost ski resort in the country, Mt. Lemmon Ski Valley is found in the Coronado National Forest, just 25 miles north of Tucson AZ. Sitting high above the valley floor at over 9,000 feet, Mt. Lemmon operates three lifts reaching 21 runs and accommodating 2,000 skiers and snowboarders per hour.
ith a ski area covering over 200 acres and an annual snowfall reaching over 200 inches, Mt. Lemmon offers trails for every ski level, with 20% of runs considered perfect for beginners and 38% just slightly more difficult. Expert skiers should not be discouraged, however, as Mt. Lemmon is home to several "Expert Only" trails as well, making the area the perfect ski experience for everyone. In need of extra equipment or want to improve your technique with a lesson or two? Mt. Lemmon Ski Valley also has premiere equipment rentals and top notch instructors on hand to meet all your ski-related needs.
Hotels are available in nearby Summerhaven or consider Tucson Hotels about 25 miles to the south. Once the snow falls and the ski season begins, Mt. Lemmon Ski Valley is open daily from 9 am to 4 pm, with half day skiing available after 12:30 pm.
More information about the Mt Lemmon Ski Area.
Elk Ridge Ski Area At Williams, Arizona
Although the name has changed, you can be sure that Elk Ridge Ski Area in historic Williams, Arizona is the same family friendly ski resort that has operated for years as the Williams Ski Area, and offers skiing, snowboarding and tubing for all ages. Located at the southern gateway to the Grand Canyon South Rim just minutes from downtown Williams, Elk Ridge Ski Area boasts a newly renovated day lodge, snack bar, poma lift and beginners slope area, all run by friendly staffers whose number one goal is to make sure you have fun in the snow.
Open Thursdays through Monday during the season, traditionalists will love the Skiers-only Thursdays while snowboarders and tube enthusiasts find the short lines and small crowds perfect for weekend trips. The ski shop offers Elan equipment for rent and quality instructors on hand for those looking to improve their skills on the slopes.
Priding itself on family fun, Elk Ridge Ski Area has a newly groomed tube hill and all new tubes, making for a safe gliding experience for everyone in the family. There are even family discounts available and kids age 4 and under free with a paid adult. Hotels are available in Williams AZ, located about 35 miles west of Flagstaff off Interstate 40.
More information about Elk Ridge Ski Area.
Most Popular Things To Do In AZ
Additional Arizona Activities