The entry to Parsons Trail at Sycamore Canyon Wilderness is from the southern-end of the wilderness near Cottonwood and Clarkdale, Arizona. Parsons Trail is one prettiest and easiest hiking trails in the Sedona area. The only real challenge is the about a 200 foot stairway drop right from the trail head down to bottom of the canyon.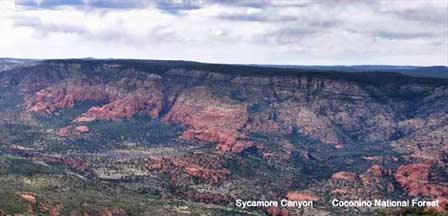 From there the hike is a pleasant stroll along a cool spring-fed creek with magnificent views of red rock canyon walls. At several locations it is a lush oasis. A rich riparian environment with animal life. There are large trees that offer shade and places with thick vegetation to relax and enjoy the views.
As Parsons Trail heads upstream, it will meander several times back and forth across the stream where hikers will discover patches of forest that includes cottonwood, ash, willow, and box elder trees. There will be short distances where the trail will rise above the creek exposing a different landscape of cactus and palo verde trees.
At a number of points, additional springs flow from the canyon wall through gardens watercress and colorful wild columbine flowers. The highlight of the Parsons Trail hike is reaching Parsons Spring which feeds the swimming hole at the end of the 4-mile one-way hike.
Kickback in the shades of thick trees and the views up soaring canyon walls. Swim, jump from the boulders and have a relaxing picnic before beginning the 4-mile return hike to the Parsons Trailhead. Camping is permitted 200 feet north of Parsons Spring.
Trail Video
Parsons Trail Location Map
The trailhead is located 76 miles from Flagstaff, Arizona and about 33 miles from Sedona and very near Cottonwood and Clarkdale.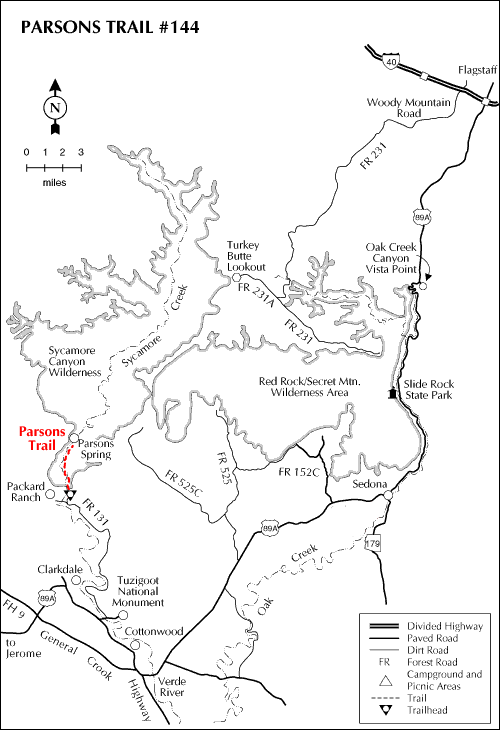 Trail Statistics and Guidelines
Hiking Difficulty. Easy but not handicap accessible. Kid friendly.
Distance. 4 miles one way
Hiking Time. 5 to 8 hours round-trip (8 miles)
Elevation. 3,600 to 3,800 feet
Mechanized Vehicles. Not permitted
Services. None. No drinking water
Season. Open all year
Best Times. Apri-May and September-November
Usage. Heavy during peak season
Follows. Parsons Creek
Camping. Prohibited during first 4 miles. Only permitted 200 feet north of Parsons Springs. There are no developed campgrounds.
Weather. Similar to Sedona Temperatures. The trail can reach 100 degrees during the peak of summer.
Directions On Getting There
Get To Cottonwood, Arizona. Follow the signs to Tuzigoot National Monument and Clarkdale, Arizona. At Clarkdale, turn right (east) at the Tuzigoot turnoff and cross the bridge over the Verde River. Then immediately turn left on Sycamore Canyon Road (FR 131).
Follow the road about 11 miles to Parsons Trail Trailhead. The road is passable by sedan when dry but the last two miles can be rough. It is best suited for high-clearance vehicles.
Related Sycamore Canyon Interest
Sycamore Canyon
Parsons Trail Sycamore Canyon
Arizona Hiking Trails (Parsons Trail)
Red Rock District
Coconino Nationa Forest
(928) 203-2900