Aspen RV Campground Near Payson AZ
Combined with Woods Canyon Lake, Aspen Campground is one of the most popular camping spots in Arizona. Setting at the top of Mogollon Rim at an elevation of about 7,600 feet, expect cool, refreshing summer temperatures within heavy forested areas, plenty of shade and awesome views.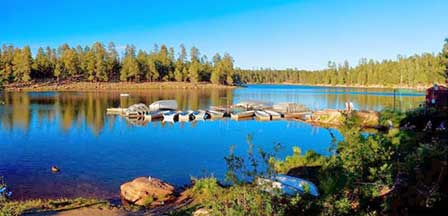 Aspen RV Campground is only 1/2 mile from Woods Canyon Lake featuring great trout fishing. The lake marina store offers groceries, supplies, fishing licenses and boat rentals. It also has a battery charging station for trolling motors. Rocky Point day-use picnic area is near the lake store and requires a nominal parking fee.
RV camping, tent camping and trailer camping is permitted with 136 sites. Of those, 27 are first-come while all others may be reserved. During peak season, Aspen fills quickly particularly on weekends and holidays. You will be taking a risky gamble of being shut-out unless you make reservations.
Aspen Campground is located about 35 miles west of Payson, Arizona and 25 miles east of Heber, AZ. The small community of Forest Lakes is about 10 miles away. Willow Springs Lake is located about 7 miles from Woods Canyon Lake.
Campground Amenities and Information
Concessionaire. On site during the season.
Fees. Nominal.
Season. May through October
Camping. Tent camping and RV camping.
Campsites. 136 campsites
RVs and Trailers. Limited to 32 feet maximum.
Utility Hookups. None.
Reservations. 27 units first-come, rest can be reserved.
Woods Canyon Store. Boat rentals and groceries.
Amenities. Grills, picnic tables, toilets, campfire rings. drinking water, and dump station. Wood is available for sale from the camp host.
Aspen Campground Location Map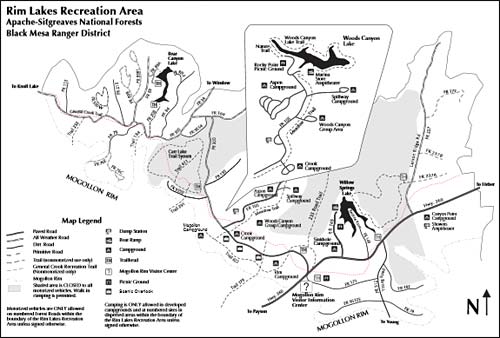 Directions From Payson AZ. From Payson, take Highway 260 northeast toward Heber. Turn left (west). Take a left at the Woods Canyon Lake turn-off (Forest Road 300). Continue on FR 300 (Rim Road) for about 5 miles and turn right onto the paved road towards Woods Canyon Lake. Aspen Campground will be about 1 mile down the road on the left.
More Campground Information
Apache-Sitgreaves National Forests
Black Mesa Ranger District
(928) 535-7300
Reservations
877-444-5777
Related Payson Interest
Payson Arizona
Aspen RV Campground
Canyon Point RV Campground
Christopher Creek
Christopher Creek RV Campground
Houston Mesa RV Campground
Mogollon RV Campground
Payson Area Map
Payson Area RV Parks
Payson Bed and Breakfasts
Payson Cabin Rentals
Payson Pictures
Payson RV Campgrounds
Payson Vacation Rentals
Rim RV Campground Payson
Sinkhole RV Campground
Spillway RV Campground
Tonto Natural Bridge Park
Strawberry Arizona
Weather In Payson
Beautiful White Mountains In Arizona