Canyon Point RV Campground Near Payson AZ
Canyon Point RV Campground is located on the scenic Mogollon Rim in the Apache-Sitgreaves National Forests at an elevation of about 7,500 feet so you can expect cool, refreshing summer temperatures. Temperatures during spring and fall can become rather cold. Its campgrounds are in heavy forested areas that are quite scenic.
Canyon Point is arguably the nicest campground in the Rim Country. It is only about 5 miles from Willow Springs Lake featuring boating, kayaking and trout fishing. Popular Woods Canyon Lake is about 10 miles to the west. There are scenic trails one of which is Sinkhole Trail on the edges of the Rim above the Canyon Creek Fish Hatchery.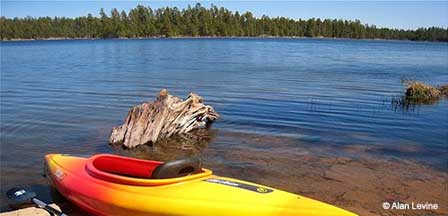 Families will enjoy interpretative educational programs at the campground's amphitheater that are presented by rangers on most weekends during the season. A general store is located about two miles east at Forest Lakes. The Rim Visitor's Information Center is located at the junction of Highway 260 and the Rim Road.
Canyon Point Campground which permits both RV camping and tent camping and is located about 30 miles from Payson, Arizona and about 25 miles from Heber, Arizona.
Campground Amenities and Information
Concessionaire. On site during the season.
Fees. Nominal.
Season. May through October weather permitting.
Camping. Tent camping and RV camping.
Campsites. 106 units, 32 have electricity.
Family Units. 3 total universally accessible.
Quad Sites. 5 that will accommodate 16 people each.
Group Site. Available.
RVs, Trailers, Motorhomes. Up to 75 feet maximum.
Reservations. 20 units first-come. Others may be reserved.
Amenities. Grills, picnic tables, flush toilets, campfire rings. drinking water, showers, dump station and an RV sanitary station.. Wood is available for sale from the campground host. All roads are paved.
Campground Map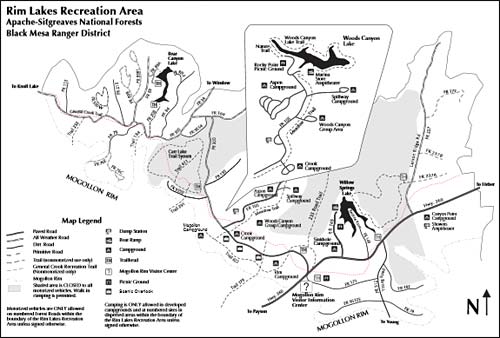 Directions From Payson AZ. Take Highway 260 northeast of Payson toward Heber, Arizona. Canyon Point Campground is located at milepost 287 on Highway 260 about 4.5 miles east of the Mogollon Rim Visitor Information Center.
GPS Info. (Latitude, Longitude):
34.32333, -110.82667
34°19'24"N, 110°49'36"W
More Campground Information
Apache-Sitgreaves National Forests
Black Mesa Ranger District
(928) 535-7300
Reservations
877-444-5777
Related Payson Interest
Payson Arizona
Aspen RV Campground
Canyon Point RV Campground
Christopher Creek
Christopher Creek RV Campground
Houston Mesa RV Campground
Mogollon RV Campground
Payson Area Map
Payson Area RV Parks
Payson Bed and Breakfasts
Payson Cabin Rentals
Payson Pictures
Payson RV Campgrounds
Payson Vacation Rentals
Rim RV Campground Payson
Sinkhole RV Campground
Spillway RV Campground
Tonto Natural Bridge Park
Strawberry Arizona
Weather In Payson
Beautiful White Mountains In Arizona